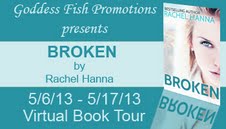 This post is part of a virtual book tour organized by
Goddess Fish Promotions
. Rachel will be awarding a $25 Amazon GC to a randomly drawn commenter during the tour. Please see the Rafflecopter below.
A Day With Rachel Hanna – Behind The Scenes
I think writers are an interesting bunch because we're creative, often a bit odd and very non-conventional in most cases. For myself, I realized early on that I didn't fit into the mold of corporate America. After getting a degree in Journalism and working in that (and other) fields for most of my adult life, I soon realized that working for others and trying to squelch my creativity was pure torture.
For instance, I could never get past the thought that some person in a nice suit sitting in a stuffy office had the right to tell me how long I had to eat lunch. Or what time I had to wake up in the morning. Or whether I could go to my kid's event that afternoon. I just didn't "fit in"!
So, I became a writer. The one thing that has never changed about me is that I am a night owl. I rarely go to bed before 2 AM unless I'm sick. I think better at night once the kids are in bed and it's dark. I'm also NOT a morning person. Most of my family and friends know not to talk to me about anything important before 10AM. I am much kinder and gentler around that time.
I don't really have a typical day, but here's how "most" days go for me. I get up around 8 or 9 in the morning, skip breakfast (yeah, I know, bad…) and pop open the laptop or iPad. I check emails and Facebook first, always being sure that I don't miss out on any important news (the Journalist still lives within me, I suppose).
Then, I lay out my day. I might be working on one of my books or doing some plotting for another book. I might do some marketing, hanging out on Goodreads and I especially like to read and research how other writers are doing with similar books.
I should also mention that we homeschool our three kids, and my husband is a writer too. By the afternoon, it's time for activities such as piano, karate, guitar and ballet. Then, I'm back home in late evening for dinner and bedtime.
This is how most days go, but being a writer I might throw something different in there from time to time. Sometimes I write from my bed, other times from my office, other times from my deck.
So, there you have it! The exciting life of a romance author. 🙂
About the Author:
Rachel Hanna is a best-selling author of romance novellas and novels. She lives outside of Atlanta with her husband, three cool kids, two crazy dogs and one very snooty outdoor cat. She loves to write, read, spend time with family and embarrass her kids as much as possible.
She also LOVES to connect with her readers through various social media outlets such as Facebook and Twitter, so be sure to check out her website for ways to connect!
Facebook: https://www.facebook.com/rachelhannaromance
Twitter: @RachelHannaBook
Website: www.RachelHannaRomance.com
Goodreads: http://www.goodreads.com/rachelhanna
When twenty-four year old Bella Clay experiences yet another major loss in her life, she is forced to come home and become a young, single mother to her seven year old nephew. No one in the small town of Madison Falls knows just how damaged she is, and they certainly don't know her dirty little secret about where she's been for the last two years.

Grant Brady is the local hunk who works as the elementary school PE and history teacher. When he takes an interest in helping Bella start over in Madison Falls, she tries to push him away afraid that he will find out her dark secrets. What she doesn't know is that Grant has a secret of his own.

Will love prevail or will one or both of them run for the hills out of fear?

This book is a novella, so you can enjoy it in just one day! 🙂
BUY the book at Amazon.