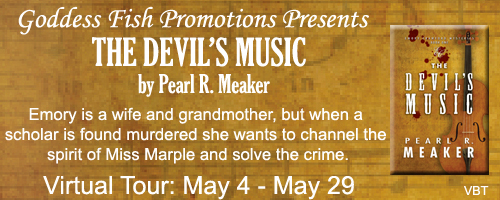 This post is part of a virtual book tour organized by
Goddess Fish Promotions
. Pearl will be awarding a $25 Amazon or Barnes and Noble GC to a randomly drawn winner via rafflecopter during the tour. Click on the tour banner to see the other stops on the tour.
Following Pearl
It's somewhere between 4:30 and 5:30 AM and my alarm is going.
My alarm has four puddy-tat paws and is either using the bottom section of our bed as a scratching post or is yowling loudly or is walking on my husband and me or is doing some combination of the above.
And it may not always be the same alarm.
It's usually either Goldie, our 15-year-old female orange tabby or it's Flaming Chi To, our 3-year-old – – – well, he looks like a lightly toasted marshmallow with Siamese point markings and blue eyes. (His type of cat are called "Color Point Shorthairs." A boring name for a very cool looking cat of Siamese/Orange Tabby descent.)
My hubby usually goes back to sleep (unless he's already left for work, then it's rather hard for him to go back to sleep) but I get up to start my day.
Welcome to a day of following Pearl R. Meaker.
I take care of the morning necessaries while sharing the bathroom with Chi To and another of our four cats, 2 year old Mr. Midnight, (Guess what color he is?) (You get to wander around my house while I'm in here.) The boys both like to drink fresh running faucet water or lay down in the sink. After managing to brush my teeth around the boys, I'm off to do morning cat care. This is often accompanied by music on my iPod – bluegrass with or without vocals, Celtic, late 60's/70's rock, classical, environmental, relaxation, or medieval.
The cat most vocal about how starving she is is Millie, an 18-year-old black cat who is the grand lady of the house. But everyone has to wait for breakfast until I've given Chi To his medicine.
Flaming Chi To has cerebellar hypoplasia along with herpetic keratitis. The first is a neurological condition that affects his balance. His is a mild case but he still has some issues like being a messy eater and not being as good a jumper as cats usually are. The herpetic keratitis is an eye problem that is chronic and is what the meds are for.
Once Chi To is taken care of, everyone gets a wet food treat and peace reigns in the house. (Happy Kitties!)
Next, I do litter box duties.
Then, I get to feed me. Breakfast is usually an egg with some deli ham or turkey and cheese, toast, coffee and juice – and reading. I will offer you whatever we have that you might want and we'll most likely talk – unless you also like to read while you eat.
This "following Pearl through her day" gets difficult after this point. After this, I don't have a regular daily pattern. My husband's work hours fluctuate, so that doesn't help me keep to a regular schedule. There are no school-aged children in our home, which helps with scheduling in the school year. (They are the ones who have school-aged kids now). It is difficult for ADD Pearl to set and actually hold to a schedule that isn't established by outside circumstances.
But let's say I'm writing today, which is usually accompanied by the above listed types of music but nothing with vocals – otherwise I start typing lyrics, and I can't publish those.
I write on a MacBook Pro laptop using Word for Mac, Scrivener, and a program that isn't as well known, perhaps, called Inspiration9. Early thinking and plotting are done in my head and on Inspiration9 which does thought bubble diagrams and time lines – both of which the program can then show as outlines if you want, but why would I want that? 😉
The entire first draft is done on Scrivener. Every three to five chapters, I copy/paste them into Word and send them to my excellent writing coach, Mary Rosenblum, for initial editing.
Everything progresses in that way until the story is finished, then it's off to the publisher.
(YAY!)
I do have an office, which is also my crafts room, also where the two girl cats hang out much of the time. I write there sometimes. I also work in the living room, in the kitchen on the dining table, or out on our backyard patios.
Lunch is something light, like soup or a salad – and reading, or talking to you.
Afternoon (or morning) can also include doing various sorts of housework.
4:00 to 5:00 PM brings Chi To's meds and cat dinnertime.
Dinner is rather varied and happens whenever my husband gets home from his ever-changing shifts at work – and reading if he has an evening shift and I'm hungry before he gets home. Are you staying for dinner? Let's go out! 
I don't usually work in the evening even if my husband is working an evening shift. Unless I'm caught up in a crazed fit of writing with the muse pumping words out in a steady stream, I relax in the evenings. I watch NCIS, Castle, Bones, or Elementary episodes that I've recorded or I watch a variety of goodies off of Netflix.
By anywhere from nine to eleven at night, I'm ready for bed and off I toddle off to sleep, dream and get up the next morning to enjoy another day in my life.
Emory Crawford doesn't do martial arts nor is she an athletic, leggy woman who is built like a model. She's a wife, grandmother, and empty nest lover of crafts, reading, birding and bluegrass music.

When an acclaimed scholar, best-selling author and fellow bluegrass musician is found murdered on the Twombly College campus where her husband teaches chemistry and forensics, Emory takes up her knitting caddy, to help her channel the spirit of Miss Marple, and heads off to help solve the crime.
Enjoy an excerpt:
Naomi explained, "I play cello and love chamber music so ethno-musicology is starting to look like a good field to go into. Interest in it will surely pick up now that Dr. Dawson's book is so popular."
Archie looked up at the mention of his book.
"Speaking of which, do you have it with you, Naomi?"
"Oh yes! I forgot." She easily folded in half to dig into her M.A.S.S. canvas tote. "Here." She held the book out for me to take.
"Personally signed to you and Jebbin."
Archie made sure he was loud enough for everyone at the table to hear him.
They all looked at me.
"Ah, thank you, Archie."
"What'd he write?" Myra asked me.
I opened the cover.
"To my dear friends, Dr. Jebbin & Emory Crawford. Even a banjo picker should be able to understand this. Ha Ha. May none of your murder songs come true! Dr. Archibald Finlay Dawson."
I closed the cover.
"Well, I guess I can return the one I checked out of the library this afternoon. We were planning on buying one at your signing table anyway, Archibald. Can't pass up having a signed best seller for a new doorstop."
Archie raised his eyebrows.
"I'm joshin' ya, Archie. Just joshin'."
Archie looked relieved. He laughed it off and we all went back to our own meals and conversations.
About the Author: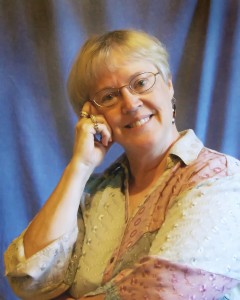 Pearl R. Meaker is an upper-middle-aged, short, pudgy homemaker, mother, and grandmother who in 2002 became a writer. Initially writing fanfiction she soon tried original fiction at the encouragement of her regular readers. She has been a life-long lover of mystery stories and automatically went to that genre for her first book, The Devil's Music. She and her husband of nearly 40 years live in central Illinois. They both love bluegrass music, playing fiddle and banjo and singing. Pearl also does many crafts – when she's not reading or writing – knitting, crochet, origami, needlepoint, and cross-stitch among them. She also enjoys birding and photography and is a former fencer.
Website | Facebook | Twitter | Pinterest
Buy the book at Amazon or the publisher.