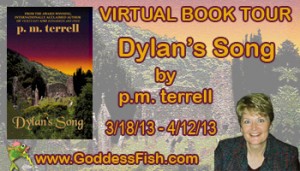 This post is part of a virtual book tour organized by Goddess Fish Promotions. p.m. will be awarding a Celtic Knot Necklace to a randomly drawn commenter during the tour. Click on the tour banner to see the other stops on the tour.
A Day in My Life
I awakened at 4:30 this morning as I always do—without an alarm and eager to start the day. I had a round of edits to complete and a new manuscript to begin and I was ready to roll up my sleeves and get both done.
But when I ran the water for my bath, I realized the water was a milky reddish-brown. In panic, I rushed to my angelfish tanks, which I'd begun breeding when the CIA psychic spy in my Black Swamp Mysteries series uses an angelfish breeding operation as a front—only to find their water had also been contaminated while I slept. I made a quick call to the city government and I was told someone from the Water Department was on the way.
I am an avid animal lover and currently have four rescue dogs. The oldest, an ancient foxhound named Mattie, is having trouble walking and I give her the muscle relaxers prescribed by the vet. Simone the collie is barking her head off at the neighborhood joggers and the Jack Russell Lucy is running up and down the fence line as the cat on the opposite side sits quietly and watches. Only Eddie, the other Jack Russell, is quiet. He wants to be carried as I try to get dressed.
The city employee shows up at the same time as my phone rings. I recognize the number as a Hollywood producer who has been considering my work. His readers tell him they loved every one of my books, he says, but my covers are crap.
"Does that mean you don't want to make movies from them?" I ask.
"I didn't say that," he answers. "I just said the covers are crap… I don't make movies out of books that sell under 100,000 copies. How many have yours sold?"
I confessed I didn't know. I try to remain focused on writing the books while my agent and editors focus on the numbers. But he doesn't want to speak to them; he wants to speak with me.
I pull up the document I'm supposed to be editing and while he talks, I begin working on the manuscript with one eye on the window, where I can see the city worker flushing the lines outside.
My email beeps; it's just downloaded 457 new emails. I am in the final stretch of planning the Book 'Em North Carolina Writers Conference and Book Fair. As I scan the emails, I see that one panelist forgot which talk she's in and she wants me to look it up. Another doesn't know if he RSVP'd on the Author Meet and Greet. The bank only sent one credit card reader for the cashiers to use, so I'll have to find out where the second one is. An author has counted how many times each person is in a panel and she doesn't like the fact that one person is in two and she's just in one. I offer her another one, but she refuses; she wants the other author cancelled out of her second one.
The producer hangs up and I still don't know whether he's interested in making my books into movies. The phone rings again; this time it's a reporter asking if any of the authors in the Writers Conference are in her county. I make a note of her state and county, knowing I'll have to pull out a map and go author-by-author to see if anybody came from her area. And I'm hoping my angelfish don't die before the water department flushes the lines.
By noon, I have responded to nearly a hundred emails and three hundred more have taken their place. One of them is from another author chastising me for not blogging seven days a week. "You have to make the time," she says. I realize I haven't eaten all day so I grab some M&M's before I pass out.
By mid-afternoon, I'm halfway through editing in between phone calls, emails and the team of city workers who have now shown up in my neighborhood to bleed all the lines. I receive a knock on my door from a lady who drove 57 miles to see me because my line has been busy all morning. She wants to know if she can buy one of my books. It would take longer for me to tell her that the book stores carry them than to just get it myself, so I grab one off the shelf and sign it for her.
Miraculously, I am finished with the final round of edits by evening, though I don't remember doing them in the midst of all the interruptions. I have a rare evening alone, so I pull out my laptop and begin writing the next novel. I am already six weeks behind schedule; the book is in my head and I try to get it down on paper before it disappears.
By midnight, the water is beginning to clear in the angelfish tanks. The dogs are asleep. My inbox is up to 798 emails, a stack of unopened mail sits on the counter, and I've turned off the phones because the ringing was driving me insane. I have one chapter in my new manuscript done. Around 1:00 am, I doze off. I awaken at 4:30, ready to start again.
About the Author: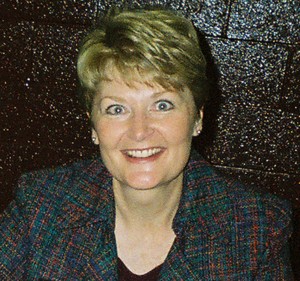 p.m.terrell is the award-winning, internationally acclaimed author of more than 16 books. Vicki's Key, one of the first books in the Black Swamp Mysteries series, was one of five finalists in the 2012 International Book Awards (Mystery/Suspense) and 2012 USA Best Book Awards (Mystery/Suspense.) River Passage, an historical work based on her ancestor's migration to Fort Nashborough in 1779-1780, won the 2010 Best Fiction & Drama Award. The Nashville (TN) Metropolitan Government Archives determined it to be so historically accurate that they entered the original manuscript into their Archives for future researchers and historians.
Prior to becoming a full-time author in 2002, terrell founded and operated two computer companies in the Washington, DC area. Her clients included the United States Secret Service, CIA, Department of Defense and federal and local law enforcement. Her specialty is in the areas of computer crime and computer intelligence. Her experience in these areas have greatly influenced her books' plots.
She is the co-founder of The Book 'Em Foundation, whose slogan is "Buy a Book and Stop a Crook" and whose mission is to raise awareness of the link between high crime rates and high illiteracy rates. She founded Book 'Em North Carolina Writers Conference and Book Fair, an annual event to raise money to increase literacy and reduce crime.
For more information on Book 'Em North Carolina, visit www.bookemnc.org and www.bookemnc.blogspot.com.
p.m.terrell's website is www.pmterrell.com and her blog is www.pmterrell.blogspot.com.
She can be found on Twitter @pmterrell
On Facebook at https://www.facebook.com/author.p.m.terrell and https://www.facebook.com/pages/pmterrell/129318810431554.
Dylan Maguire returns to his native Ireland with psychic spy Vicki Boyd. Their mission: to locate and extract a CIA Agent who disappeared in Dublin while on the trail of a known terrorist. But when Dylan receives word that his grandmother is dying, he is plunged into a past he thought he'd left behind forever. His mission and the dark secrets he'd sought to keep hidden begin to merge into an underworld that could cost him his life. He must now confront his past demons and the real reason he left Ireland—while Vicki harbors a secret of her own.

Suspense Magazine says, "p.m.terrell's writing is powerfully written and masterfully suspenseful; you have to hang on for the ride of your life." Midwest Book Review says the Black Swamp Mysteries series is "page-turning action, unforgettable characters, breathtaking descriptions and unexpected plot twists." And syndicated reviewer Marcia Freespirit says the series is "riveting, spell-binding, sexy and intense!"