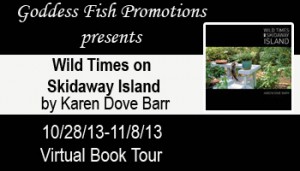 This post is part of a virtual book tour organized by
Goddess Fish Promotions
. Karen will be awarding a $25 Walmart gift card to FOUR (4) randomly drawn commenters during the tour, and a Grand Prize of an Apple iPad to one randomly drawn commenter during the tour. Click on the tour banner to see the other stops on the tour.
A Day in the Life of Karen Dove Barr
12:01 A.M. My husband, Joe is jerking, half-sitting up, sound asleep. Since he's been on meds for Lewy Body dementia he doesn't knock over the nightstand or punch me in the head, but I quickly wake him. ""Sorry," he mumbles. "Really wild dream." He's asleep again before he can articulate. I'm back asleep too. We are used to the sporadic waking.
My alarm is set for 5:30 A.M. but the stray Maine Coon who adopted us likes me up by 5:00. She jumps on my sleeping body and gently taps me with her paw. I know two taps is her limit; before she bares her claws I groggily head for the kitchen. After I mix dry and canned cat food for her and the feral kitties meowing loudly at my back door, I grab a cup of coffee and bowl of fruit for me. I scan the morning newspaper, reading all the comics and my horoscope as I don a business suit, makeup, and high heels.
After kissing a sleeping Joe goodbye, I head out in the dark, off the island, to the end of a wooded peninsular on the mainland to my daughter's house. Wresting my thirteen-year-old granddaughter and her younger brothers, ages nine and six, from their long time nanny, I pile three backpacks, two computers, a bag of baseball gear, a gym bag, a violin, and a 4" by 6" cardboard poster into the back of my SUV next to my own gym bag.
"Grandma! My mascara is smeared!" wails the thirteen-year-old.
We head across Savannah to the carpool line where I join young moms and dads unloading their children for school, then on to my office.
By 8:30 I grab my files for court, hollering last minute instructions to my paralegals, drive to the courthouse parking garage and race up and down between courtrooms, explaining to deputies where I will be since I have three nine o'clock trials before two different judges.
My uncontested divorce on the second floor doesn't show. After pacing the halls and calling my office I ask the judge to continue the case. Rushing back to the fourth floor I'm told I will be last, my punishment for being late.
Hurray! I take my seat up front, away from my clients, and surreptiously remove my legal pad with the draft of the nature story I'm working on hidden in the back. As the husband in the ongoing case explains his wife was responsible for their eight-year-old being present at the wife-swapping event they hosted, I revise the draft I typed the night before. While I'm working on the story one of my clients taps me to tell me his wife accepted our settlement offer.
Finally the judge calls my last case. I drag my thoughts from my draft and explain my client only developed a romantic relationship with his secretary because his wife never wanted to have sex. Too bad the wife stole his phone and her lawyer had blown up his texts describing exactly how he wanted the secretary to perform. I reiterate that has nothing to do with the wife's need for alimony.
Rushing from the courthouse to the jail, I wend my way into the depths of a cellblock and am ushered into a dirty, windowless cell to await my client. Another chance to pull out my pad and add a paragraph detailing the facts of the otter's life cycle. While my client tries to convince me he's innocent because the witness who saw him throw cocaine in the trash had already moved out of sight before he tossed it, I ponder whether to cut the neighbor's reaction to the otter's pups, since I used it in a previous story.
Five appointments in my office later and it's 6:00 P.M. I haven't drafted the orders from this morning's cases but my paralegal tells me Joe called four times wanting to know when I'm leaving.
I drive to the gym, change, pump iron for forty-five minutes, then home where I grab a maglite and head out for a three mile run. Within minutes the headlights of Joe's golf cart make my flashlight unnecessary, as he trails behind in our familiar routine. While I think about the owl blocking my driveway this morning, and ponder whether it would make a good story, a half mile goes by without me even noticing.
About the Author: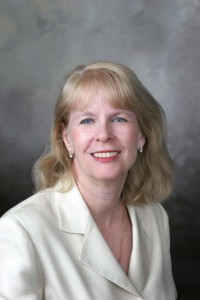 Karen Dove Barr, Attorney, was recently recognized by the Georgia State Bar for providing legal assistance to military families and service members. She has practiced in the field of family law in Savannah for 34 years.
http://www.karendovebarr.com/
https://www.facebook.com/karendovebarr
Wild Times on Skidaway Island, Georgia's Historic Rain Forest, details life in a unique Audubon-designated, ecologically friendly refuge. There, golfers pitch balls around endangered great blue herons, mama raccoons march their babies across backyard decks where once Guale Indians trapped ancestors of the same raccoons, and residents dodge alligators and rescue snakes.

Even the vegetation is wild. Three hundred-year-old oaks dripping Spanish moss and poison ivy surmount an under-story of wax myrtle and holly. Carolina jasmine, Cherokee roses, and endangered orchids grow wild in the rain forest. The book examines choices residents make when stared down by a bald eagle, when a red-tailed hawk mistakes a golf ball for bird food, when wakened at midnight by deer munching hibiscus. Wild Times on Skidaway Island educates about the species that residents must adapt to on this historic island.
Buy the book from Amazon, Barnes and Noble, or the publisher.