I've always been a simple girl. Simple pleasures, simple life, simple routine. My day always starts with me punching the snooze button a few times since mornings and I don't get along so well. That time between waking and getting up is also my favorite time to "write" in my head.
It's comfortable under the duvet, warm, and blissfully quiet in the house.
Once I'm up, though, it's usually chaos as we all scramble to get ready for work and school. My seven-year-old usually has to try on everything in her dresser before we leave, so that's always an adventure. I go off to my job in the office at a high school, enjoying a fifty minute commute with my hubby. At school, my mind chews out story ideas in the background as I'm enrolling students and dealing with the various crises that appear in the office.
Over the lunch hour, I usually crank out a thousand words on something or other, like a novel, blog posts, or spend the time editing one of my many works in progress. The afternoon is much like my morning, and another commute through forests and rock-cuts gets me back to our little house in the woods around supper time.
We usually enjoy something hubby barbecued on his charcoal grill (yummers!) out in our screened in porch to the tune of birds chirping and the frogs peeping, with the breeze blowing the season's scents through the space.
After supper, my daughter usually reads to me as we snuggle up on the sofa until she goes to bed, and then it's writing time.
During my "writing" season, I will usually pump out anywhere from 2-5k per night, but my off-seasons tend to be more like 500 words to 1k. Once my mental tank is empty, I wind down the night reading in the porch or lounging on the sofa with my cat, Diesel.
It's my favorite part of the day, that quiet time before bed. What's your favorite part of the day? I'd love to hear from you in the comments below.
About the Author:
Jocelyn Adams grew up on a cattle farm in Lakefield and has remained a resident of Southern Ontario her entire life, most recently in Muskoka. She has worked as a computer geek, a stable hand, a secretary, and spent most of her childhood buried up to the waist in an old car or tractor engine with her mechanically inclined dad. But mostly, she's a dreamer with a vivid imagination and a love for fantasy (and a closet romantic — shhh!). When she isn't shooting her compound bow in competition or writing, she hangs out with her husband and young daughter at their little house in the woods.
Find Jocelyn online at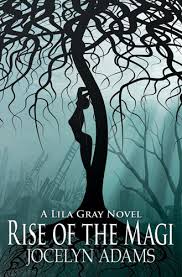 In a battle of wills, who is strongest? The one who hates or the one who loves? In a test of faith, who will fight the hardest? The one who has everything to lose or the one who believes only in herself? For Lila Gray, the answer is both. For the Magi, the questions are pointless since they can't lose, and they've been waiting since before Lila's birth for this one moment. Lila only needs to find them to understand her entire purpose in life. This time, though, instead of protecting her people, Lila may be leading them all, including her unborn child and the man she loves, to their deaths — and not by accident. In the ultimate trial of heart and soul, and the conclusion to the Lila Gray series, Lila will learn that the greatest weapon of war is herself, with one ultimate unknown. For which side will she fight?