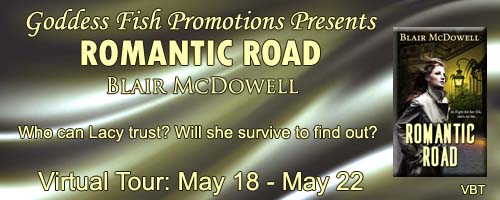 This post is part of a virtual book tour organized by
Goddess Fish Promotions
. Blair will be awarding a $15 Amazon or B/N GC to a randomly drawn winner via rafflecopter during the tour. Click on the tour banner to see the other stops on the tour.
A Day in the Life of Blair McDowell
I laughed when I first saw this topic in the list of possible blogs, but then I thought, why not! So here goes.
This morning, after my usual quick hot apple cider and boiled egg, I braced myself for our B&B guests. My morning began the night before. I set the table and lined up everything ahead of time so I could go on automatic in the morning. Meanwhile, my partner made the muffins. The guests (six of them) arrived at the table promptly at eight this morning, and dived into the beautiful fruit bowls my partner had put together, while I made Hollandaise sauce, poached twelve eggs, and served them on English muffins covered with prosciutto. Most guests love our eggs Benny, although we do five different breakfasts in rotation.
As we cooked and served coffee and tea, we chatted with our guests over their breakfast. For a writer this is magic time. You never know who's going to be sitting at your breakfast table. When I was working on a story involving a Vancouver policeman, I had a Vancouver policewoman at my table. She was a wonderful source. Another time a guest from Italy mapped out our entire upcoming trip to that country, the setting for my Work In Progress, Where Lemons Bloom. This morning we had someone who trains assistance dogs, complete with dog in training. I haven't figured out yet how to use that in a book, but I will. It's stored in my mental filing cabinet.
Guests usually linger, and this morning's were no different, chatting until about ten o'clock. It then took us about a half hour to clean up. The dishes are never put back on the shelf in season—they just go from dishwasher back to the table. We, ourselves, eat at a different, much smaller, table in a breakfast room, which incidentally has the best view in the house: hundred year old cedars and the Strait of Georgia. We laughingly refer to it as "the help table".
The pool man arrived about ten thirty, just as we were finishing up the dishes. He said he was ready to open the pool, and he had, in our absence, put a new facing on the hot tub. All good news, although there goes our profit for April. It will be too cold to swim in the pool for at least another month, but it is much prettier blue and bubbling rather than brown and full of leaves.
We feel blessed with the people who help us keep up with this large house and acre of gardens and pool. We couldn't do what we do without them.
It was eleven o'clock and we needed to do the grocery shopping, but our gardener/handyman stopped by just to visit. We love his visits. Nothing goes on in this little seaside village that he isn't aware of. We get far more news from Harvey than from any newspaper.
Finally at twelve o'clock we were free to go fill the car with gas and buy some fruit and bread and have our daily treat—coffee and pastry at Bliss, the best coffee shop on the Coast. I like a VERY dry cappuccino, and by this time of day I need caffeine.
At one-thirty I settled down to write. I try to write four hours a day. Some days I manage a bit more, some days less. I don't count emails and Facebook in that time. These I deal with in other hours—never on my sacred writing time.
So I find it's time now to go start dinner. After dinner we'll watch a little TV or read, and then the whole routine begins again.
Curious. I find my life somewhat boring when I write about it. But this is a day in the life of this particular writer.
When Lacy Telchev buries her husband she finds herself in treacherous waters. Igor, much older than Lacy, had secrets. Suddenly Lacy is being chased across Europe by men who believe she can lead them to those secrets. Evading her pursuers with the aid of a chance acquaintance, the handsome and mysterious Max Petersen, Lacy travels across Germany, Austria and Hungary, to a shattering discovery in Budapest.

Along the way, she meets three women from Igor's past. As Igor's story unfolds through them, Lacy is less and less certain who her husband really was. Who can Lacy trust? Will she survive to find out?
Enjoy an excerpt:
Her head was pounding. Aspirin. Surely she must have some aspirin in her purse. She rummaged through it to no avail. Maybe Max had some.
When she opened her room door, he was leaning against the wall. In one hand he had a small glass filled with a clear liquid. He handed it to her. "Drink," he said. "Think of it as medicine."
She looked from Max to the shot glass, back to Max.
"You have a headache?" he asked.
Numbly Lacy nodded, the very action hurting. "Drink."
She took the proffered glass and swallowed the fiery alcohol in one gulp that left her gasping for breath.
When she stopped sputtering, she asked, "What on earth was that?"
"Schnapps. Just sit down for a moment and let it do its work." He led her to an ancient carved wooden bench placed along the wall of the large center room. "You had quite a bit to drink at lunch time."
As she revived, it began to come back. Lunch. Apple fritters and mulled wine. And after lunch…
"What happened after lunch?" she asked, afraid of the answer.
"You mean you don't remember?" He sounded hurt, as if he couldn't believe what he was hearing. "How could you not remember?" He leaned into her and kissed her insinuatingly.
Lacy pushed him away and put her head in her hands. "No. Oh, no."
Max took her hands away from her face and looked into her eyes, dead serious. "Nothing happened between us after lunch, Lacy. There are rules about that sort of thing. I promise you when…that is…if we make love, it will not be when you've had too much to drink."
"You beast." Lacy pummeled him with her fists. "You let me think …"
"Feeling better now?" he asked, laughing, catching her hands in his and holding them.
Lacy realized indeed she did feel better. She felt fine.
About the Author: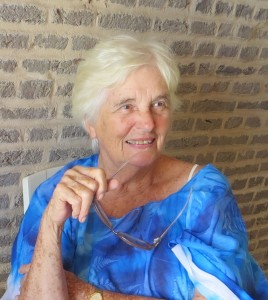 Blair McDowell wrote her first short story when she was eleven and has never ceased writing since, although only recently has she been able to return to her first love, writing fiction. During her early years, she taught in universities in the United States, Canada and Australia, and wrote several highly successful books in her field.
Her research has taken her to many interesting places. She has lived in Europe, Australia, the United States and the Caribbean and Canada, and spent considerable time in still other places, Iceland, the Far East, and the Torres Strait Islands off the coast of New Guinea. Now she travels for pleasure. Portugal, Greece and Italy are favorite haunts.
Her books are set in places she knows and loves and are peopled with characters drawn from her experiences of those places. The Memory of Roses takes readers to the Greek Island of Corfu, where a young woman finds her future while searching for her father's past. In Delighting in Your Company, the reader is transported to a small island in the Caribbean, with a heroine who finds herself in the unenviable position of falling in love with a ghost. The setting for Sonata is the city of Vancouver, with its vibrant multicultural population and its rich musical life, and the heroine is a musician who finds herself in unexpected danger.
In her most recent release, Romantic Road, Lacy Telchev, is pursued along Germany's famous Romantische Strausse as she follows clues left by her late husband in order to solve a mystery that she doesn't understand, while being chased by dangerous and cunning adversaries.
She hopes her readers will enjoy reading these books as much as she enjoyed writing them.
Blair is a member of the Romance Writers of America, Romance Writers of America (Greater Vancouver Chapter), the Romance Writers of America (Women's Fiction), and The Writers' Union of Canada.
Website | Blog | Goodreads | Facebook | Twitter | Google+
Buy the book at Barnes and Noble, Amazon, or All Romance eBooks.