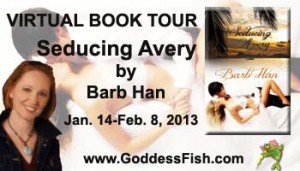 This post is part of a virtual book tour organized by Goddess Fish Promotions. Barb will be awarding a $10 BN.com or Amazon GC to a randomly drawn commenter during the tour. Please click the tour banner to see the other stops on the tour.
A Day in the Life of You — The Glamorous Life of a Romance Writer
Try as I might, I can't seem to drag myself out of bed before 9 a.m. I like to wake naturally, so I don't force it. The first thing I do when I feel good and awake is order a decaf latte and call in Paulo, my masseuse. I like to welcome my day with a massage. The days go much better when I start off relaxed. When I'm ready to face the day (and my skin is generously oiled), I ask my housekeeper to make a light breakfast. Something like Eggs Benedict or Quiche Florentine usually does the trick. Okay, NOT!! (But I had you for a second, didn't I?)
My life couldn't be more opposite. Here's a sample day in my sort-of-crazy-always-fun-and-busy life where mornings arrive far too quickly:
6:45 Wake up, drag myself out of bed, and then help the children get ready for school.
7:15 – 8:00 Run carpool (with two children, I spend a lot of time in carpool).
8 – 3 Is the blissful part of the day I call 'me' time. This is when I get to write without interruption and it's beautiful. My friends will tell you that I guard my writing time like a rhinoceros protects its young. (Of course, the occasional school volunteer responsibility sometimes chips away at this. And I celebrate finishing a book or ending a great promotion by getting together with friends for lunch.)
3 – 4 Run carpool. (I know, back in carpool!)
4 – 5:30 Squeeze in another hour and a half of writing or promoting before I absolutely have to leave my keyboard and make dinner (on days when I don't have to clean something or run to the grocery).
5:30 – 8:30 This is family time. We eat together every night (unless we're pulled away by sport practices). Part of our family time includes exercising together. We try to walk or strap on roller blades every night after dinner (our good intentions are frequently derailed by some kind of kid activity, but we do our best). Then we're off to showers.
8:30 – 10:30 I can squeeze in another couple hours of writing, promoting, or just good-ole-fashioned reading. Nothing refills my well like a good book!
10:30 – 11:00 Ah, bedtime *claps loudly* happens sometime between 10:30 and 11 most nights. Then there are those late nights which drag out until midnight (but we won't talk about those because they make us grumpy).
I'm a big basketball fan, so I try to catch as many games as I can. I work weekends in between running my children to and attending their sporting events.
About the Author: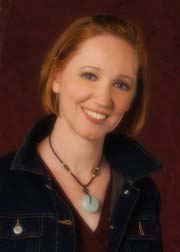 Barb Han lives in North Texas with her husband, has three beautiful children, a spunky Golden Retriever/Standard Poodle mix, and too many books to count.
When she's not writing, researching, or otherwise getting lost in a story, she volunteers at her children's school, is in the kitchen 'creating' dinner, or can be found on or around a basketball court.
Writing contemporary romance and romantic suspense has been a dream come true for Barb—something she's wanted to do for as long as she can remember. She left her corporate job, at her husband's urging, and has been happily playing with her imaginary friends ever since.
In her down time, she plays video games and loves reading with her children. She also enjoys traveling with her family. Many of the places she visits end up in her books.
http://www.barbhan.com
https://www.facebook.com/BarbHan
Twitter @BarbHanAuthor
Avery McAdams believes in order to truly be herself she needs to keep her head down, her guard up and her focus on her career. Until she's hired by sexy, charismatic Ryker Li to pull off the event of the century, and he shows up personally to convince her to handle his next party. When she meets him face-to-face, she realizes a piece of her wants him to see her as attractive, which goes against everything she's convinced herself she believes.

Rich, powerful Ryker has made an art form of getting what he wants, when he wants it, and then moving on. But something about Avery makes him want to stick around.

When he finds everything he never dreamed to look for in a woman, can the billionaire playboy commit to the biggest deal of all? Or will a lifetime of mistrust and suspicion turn them forever into rivals?