Long and Short Reviews welcomes Adriana Anders, who is visiting with us this morning to celebrate the release of her newest book By Her Touch. Leave a comment for a chance to win a copy of the book (US only please).
A Day in the Life… Author Style
Adriana Anders
I'm probably the only person in the world who adores Monday mornings. While most everybody is getting up and heading to their day jobs, I get my kids on the school bus, throw my computer bag over my shoulder, and head to the coffee shop. It usually looks something like this.
It's been a little tougher to get started recently, so I mainline my first cup of coffee while surfing social media, maybe post a line from the WIP or research such delightful topics as whether it's possible to scuba dive with a prosthetic leg (apparently there's new technology that makes this easier, but it's also possible to dive with one leg!). Oh, and I pin. Lots and lots of pins…
When inspiration (caffeine) finally starts flowing, I open up Scrivener (not a must-have program for all authors, but I'm not sure I could have finished any of my novels without it), reread what I wrote the last time I sat here, and start typing.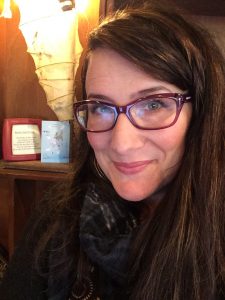 At some point, the lovely Madeline Iva (writer of sexy paranormal romance) and Joanna Bourne (mistress of historical spy romance) waltz in, settle down, and start typing away. It's pretty awesome writing in such creative company, you guys. The stories galloping around that table are incredible.
By this time, the coffee shop is crowded, the earphones are on, and the music is loud enough to block out the sound.
/
It's a race to the finish sometimes, with the kids to grab off the bus in the afternoon, but those good days—the ones where it all comes together and thousands of words flow from my brain into my fingers and onto the screen—those are magic. It's magic to sit across from such great writers, to ask questions and answer theirs, to brainstorm and plot and put the world to rights around a tiny Mac-covered bistrot table, littered with empty coffee cups, smuggled Kind bars, and Madeline's woo-woo tea blends.
More than anything, though, it's magic to see those words appear, eventually, in print, on audio, or lit up on someone's Kindle.
Undercover cop Clay Navarro left the Sultans biker gang a changed man. Its ringleaders may be awaiting trial, but he wears the memory of every brutal act he was forced to commit tattooed across his skin. He doesn't have space in his messed-up life for anything gentle—not now, maybe not ever.

Dr. Georgette Hadley is drawn to the damaged stranger's pain, intimidated but intrigued by the warmth that lies beneath Clay's frightening exterior. But when the Sultans return looking for revenge, she finds herself drawn into the dirty underbelly of a life forged in violence…that not even her touch may be able to heal.
About the Author: Adriana Anders has acted and sung, slung cocktails and corrected copy. She's worked for start-ups, multinationals and small nonprofits, but it wasn't until she returned to her first love—writing romance—that she finally felt like she'd come home. Today, she resides with her tall French husband, two small children and fat French cat in the foothills of the Blue Ridge Mountains, where she writes the dark, gritty, steamy love stories of her heart.
Adriana Anders | Twitter | Pinterest | Facebook
Buy the book at Amazon, Barnes and Noble, or iBooks.