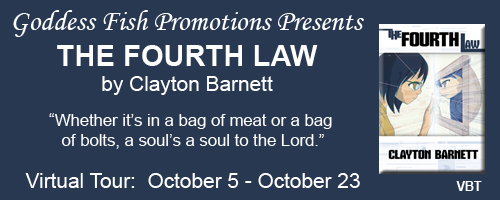 This post is part of a virtual book tour organized by
Goddess Fish Promotions
. Clayton Barnett will be awarding a $30 Amazon or Barnes and Noble GC to a randomly drawn winner via rafflecopter during the tour. Click on the tour banner to see the other stops on the tour.
Character interview
(since one of the two main characters actually has a small interview in the story, why not let her speak for herself! Thanks for hosting me! – CB)
They were walking back into her main room when they heard the rumble of a motorcycle outside. Not that she'd planned to keep this a secret, Lily knew that once the kids found out something, the town did, too. She looked out her window; sure enough, it was Wayne, the head reporter for their newspaper, the Daily Light.
"Ai, the guy that just came up? He's a reporter." Ai's face seemed to say, 'so what?' "He's probably going to want to ask you a bunch of questions…."
"I don't mind, unless it would bother you?"
"Oh, no! I'm proud of being your friend! Let's go back downstairs."
Wayne was already talking to the three men from A&M and writing in his notepad. Bill Casey pointed and said, "And there's your star, right there!"
"Miss Barrett," he nodded curtly. He knew, but he wasn't here for her. "Afternoon! I'm Wayne Wright, reporter for the local paper!" He handed her a card. Lily noted Ai took it with both hands and a slight bow; wasted on this guy, she thought.
"I've just confirmed what the rumor was with your handlers, here," Lily wanted to growl at that, "and would like to ask you some questions, Miss…?"
"Ai."
"I?"
"Ai; may I borrow your notepad?" She wrote the kanji and handed it back.
"Okay, thanks. Why don't we use this office…."
"No, we don't." Said Lily. Never had liked reporters, never would. "We can use the dining hall, and as many of my kids who want to watch, will." The more witnesses, the smaller his lies.
He glared, then nodded. "Let me get some of my video gear first." He went to the saddlebags on his bike while Lily pointed the kids in the direction of the hall. She sent a message to Carol.
A quarter of an hour later, tables rearranged, Wayne had a small camera set to record Ai, who sat flanked by about 2/3rd of the children. Lily was next to Wayne, in case she needed or wanted to punch him in the head.
"Okay. From the top: your name is…?"
"Ai."
"You wrote the symbol for me, thanks, does it mean anything?"
"Love."
Little Erik snorted.
"And you are…?"
"You behold a prototype android of the Somi Corporation of Osaka, Japan." Lily enjoyed the evasiveness of her answer and winked at her; she blinked elegantly.
"Why are you here?"
"Somi Corporation has a working relationship with both your country and with Texas A&M University. It was thought a gesture of goodwill to debut one of their products here."
"That would explain you being in College Station, not Waxahachie."
"That's true." Lily bit down a laugh.
Wayne was not a rookie; he knew a tough nut when he got one. "Tell us why you're here."
"To see my dear friend," she rolled her hand, "Lily."
"You mean Lily Barrett?" Thanks for stressing the last name, jerk.
"Yes."
"How is it," he went on, "that a machine has a friend?"
"Very simple, really. But perhaps I do not understand your question." She shifted on her chair. "Being a machine and all."
"Are you self-aware?" He shot. That caught Lily by surprise.
"As much as you are."
"Let's take a break," Lily announced. "Marienne, please go make coffee and…" she saw Carol come in, "…tea, as well." She looked at Wayne. "Pause that during the break."
"Hey, I've a right—"
"To get tossed off our land," Carol drawled. "Pause it."
Ten minutes later, coffee and tea well distributed, they resumed.
"How long will you be staying?"
"My contract is for twenty days."
"When are you going back to College Station?"
"In nineteen."
"What?" Bill Casey stood up. "That's not what I was told! We're supposed to take you back tomorrow night!"
Tomorrow night! Lily quailed inside. But even twenty days was too short!
"Plans change." Ai said easily. "Please contact your Department head." She took a sip of tea, looking right at Lily.
She changed them!
"Alrighty! On behalf of the good folks of Waxahachie, I'd like to extend our best Texan Hospitality to you!" Said Wayne.
Creep. That was for your readers and advertisers.
Seeing that as the end of the interview, Carol strode over to Ai and looked at the camera, saying, "And remember that St. Edward's Home for Children always accepts donations of food and clothing from our community!"
"I'll just edit that out," Wayne murmured.
"A good Christian wouldn't," retorted Carol. He winced at that.
He talked to a few of the children. Most thought Ai was "nice" or "cute." Except, of course, Erik: "She can't play soccer worth nothin!"
In 2026, 23 year-old apprentice nurse Lily Barrett lives in a shattered time. Following its economic collapse, the US has devolved into a group of a few barely-functional smaller states, and vast swathes of barbarian badlands. Her sister has been missing for years, and her father, after earning the opprobrium of most of the world for running a state terror organization, presumed dead.

Two things keep her going: her live-in job at a small, Catholic orphanage in the city of Waxahachie, Republic of Texas, and Ai, her odd, but dear friend, whom she met online: a young woman who only shows herself to Lily as a rendered CG image.

Troubled by her past, haunted by her name, and facing an uncertain future, Lily seeks only a quiet, normal life. But, that past and her present conspire against her. A new Morning has come, and with it, delights and terrors, happiness and adversity.

Where do we come from?
What are we?
Where are we going?
Enjoy an excerpt:
Lily went off to her right while Ai continued towards the Office building. She'd just started moving the gate when another of Ai's groupies stepped out of the darkness.
"You. Are you the robot?" The woman's snippy, non-Texan voice was one thing; calling Ai 'the robot' was yet another.
"No, I'm not! This orphanage is closed for the day! Please come back tomorrow… with a donation!" Take that, Carol!
"If you ain't the robot, you're Barrett!"
Lily heard an odd, loud pop. Fireworks? She took one step back, started falling backwards. There it was again.
"That's for closing the Wymyn's Studies Department at the University!" Lily wondered if that was even English.
She found herself suddenly on her butt; why did she sit down? Running. Was that Ai? She rocked her head up just as Ai leapt over her. Did Ai just kick that rude woman in the head? Suddenly cold, she put her hands across her chest. Why was her chest so wet?
Ai was kneeling next to her. "Lily! You've been shot!"
Oh, please! "Ai… don't be silly… I'm fine…urk!" She coughed something dark and nasty onto Ai's face. "Oooo! I'm soooryyy… Ai! I'm so tired… want to slee—"
Faintly, she heard Ai scream louder than she'd thought possible. "DORINA!"
About the Author: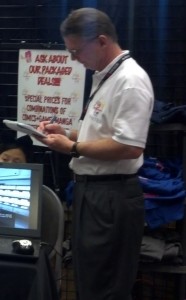 One time engineer, some time pharmacy technician, full time husband and father, Clayton Barnett stumbled into writing a traditional novel last November during National Novel Writing Month. Liking the results, he edited what would become "The Fourth Law" and set about teaching himself self-publishing. In July of 2015, he released a sequel entitled "Echoes of Family Lost," in what is now called his Machine Civilization series. He is working on a third book – for children – and is making notes for a fourth. Clayton Barnett lives in central Ohio with his wife, two daughter, and two dogs.
Website
Buy the book for only $0.99 from Amazon.