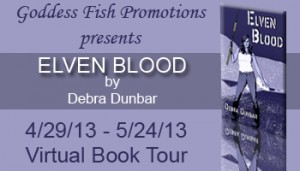 This post is part of a Virtual Book Tour organized by Goddess Fish Promotions. Debra will be awarding an e-book copy of A DEMON BOUND (book 1 in the Imp Series) to a randomly drawn commenter at every stop, and a grand prize of a Kindle Fire with an ELVEN BLOOD book cover skin to one randomly drawn commenter during the tour (US ONLY). Click on the tour banner to see the other stops on the tour.
A Character Interview with Leethu from Elven Blood.
LASR: Tell me about your appearance, the human form you've taken
Leethu: Ya was a courtesan in Thailand. As she aged, she felt her influence began to slip away, and knew the day would come when her looks would fade, leaving her with nothing. I offered her an eternity of ageless beauty as well as the chance to experience the power of sex at its full potential. Thus, our deal was made. I use her appearance, all her knowledge and memories, and she lives vicariously through my actions.
LASR: So Ya made a deal with the devil?
Leethu: Oh no, I am not the devil! I am just a succubus. Some do not even consider us true demons.
You need sex to live, correct? It sustains you?
There is energy transference in sex that is vital to my existence. At the moment of my partner's orgasm, I receive immense power, so it is my goal that each partner experiences the greatest ecstasy.
The power transfer goes far beyond their immediate gratification, though. Long after they have left my arms, each time they think back on our experience, each time they burn with remembered desire, I gain in power. Not as much as the initial event, but still valuable to me.
As you can see, my feelings and my enjoyment do not factor into this. Although I do enjoy each of my encounters, it is my partner's experience I concentrate on, not my own.
LASR: In ELVEN BLOOD, you've come for an extended stay at your foster sister Sam's house. Are you two close?
Leethu: Sam? Oh, you mean Ni-ni. I forget that she goes by a human name now.
She was very young when I left the care of our foster parents to go for training, so we were not particularly close in our youth. She was the cutest little imp though- orange scales edged with red, blue tufts of fur, and three big heads. Just adorable, and always in trouble.
She's always in trouble now too, but Ni-ni seems to live under the benevolent wings of Lady Luck. No matter how desperate circumstances are, she always manages to come out on top.
LASR: Speaking of trouble, what exactly happened back in Hel to cause you to want to hide out in Sam's house?
Leethu: It is nothing really. Just a misunderstanding. Someone thinks I did something, but I did not. It wasn't me, it must have been some other succubus or incubus.
Rumors burn hot and quick. Soon gossip will turn to another, and I'll be able to go home. I hope so. Ni-ni is a lovely host, but she has an angel stalking her. He seems to be rather enamored of her, but that affection does not extend to me.
LASR: What will you do when you go back to Hel?
There are some business matters I need to attend to. I'd like to come back here soon and play with the humans. I'm not sure how long I can stay before the angels come for me, though. Maybe Ni-ni's protection will extend beyond the confines of her house? I'll have to ask her. It would be lovely to be able to stay and not worry about a beastly winged creature chopping off my head.
LASR: Will you have your own book in the future?
Leethu: Perhaps. Would you like that? Would it please you? I could stay with you and show you what life is like for a succubus. Just for a night – a night you'll never forget.
About the Author:Debra Dunbar lives on a farm in the northeast United States with her husband, three boys, and a Noah's ark of four legged family members. Her urban fantasy novels feature supernatural elements in local settings. In addition to A DEMON BOUND, SATAN'S SWORD, and ELVEN BLOOD, she has also published a short story erotica series titled NAUGHTY MOM. Connect with her on Twitter @debra_dunbar on Facebook at debradunbarauthor, and on her website at http://debradunbar.com.
Buy A DEMON BOUND and SATAN'S SWORD.
Sam may be the Iblis, but she is also an imp with a price on her head. The powerful demon Haagenti won't rest until she's dragged back to Hel for "punishment". Sam knows she can't face Haagenti and win, so when an Elf Lord offers to eliminate the demon in return for her help, Sam accepts. It's a simple job – find and retrieve a half-breed monster dead or alive. But finding this demon/elf hybrid isn't proving easy and time is running out.