This post is part of a virtual book tour organized by the publisher. Enter to win a copy of
What a Duke Dares
.
5 Reasons I Write in My Genre by Anna Campbell
I've always been mad about historical romance, right from the first fairy tale that my parents read to me back in the Dark Ages. These days, I'm lucky enough to write historical romance for a living – talk about a dream come true. This week I'm excited that my readers get to see my latest efforts in the genre with the release of WHAT A DUKE DARES from Grand Central Forever.
So here are five reasons for why I write historical romance:
1. The larger than life factor. I think any great romance sweeps you away to another world, but there's something just…more about the other world of a historical. Perhaps it's the fairytale factor, but you can really go over the top romantic and dramatic and emotional with a historical in a way that doesn't always work for a contemporary. Adding to the fairytale factor, historical romances usually inhabit an aristocratic world. There's something very enjoyable about going to work with dukes and earls every day!
2. The long dresses. People often ask me why I write historicals and they think I'm joking when I say "the clothes" – more about that later. Regency dresses are the stuff of fantasy, from the severely tailored masculine-style riding habits through to the frivolous glories of embroidered silk evening gowns. Having said that, I'm short and round and in a high-waisted gown, I look like an over-full plastic bag tied up with string. But then, in my stories, I'm not wearing these glorious fashions, my heroines are!
3. Stately homes and all that jazz. The world of the historical romance (if not the historical romance writer!) is awash with glamour. These dukes and earls only have the best of the best so they get to live in wonderful piles like Chatsworth. They also get to own old master paintings and gorgeous china and gardens the size of Nebraska. Creating the settings is a really fun part of my job. And I get to claim visits to rambling old houses in England as valid research costs on my tax! How cool is that?
4. Repartee. Even the word 'repartee' belongs in a historical romance. From Pride and Prejudice onward, the heroes and heroines in historical romance are famous for their witty dialogue. I think in a historical you can play with elaborate language without it seeming unrealistic.
5. Men in Boots! Would I sound shallow if I said this is my number one reason? There's something so dashing about the men in the Regency. Great hair. Clean shaven (I know the beard is back, but the whole Victorian facial hair thing just doesn't get me enthused). Neck cloths. Beautifully cut coats. Flowing white shirts. Tight breeches. Silk waistcoats. Gloves and high-crowned hats. Boots polished to a mirror shine with champagne. It really is a wonderful era for masculine fashion and its influence continues down to the present day in terms of superb tailoring being the hallmark of elegance for a man. Mr. Darcy wouldn't have been nearly as appealing when he was wet if he'd been wearing a doublet and hose!
So why do you read historical romance? What do you think a historical romance offers a reader that other genres don't?
What woman in her right mind would say no to marrying the dashing Duke of Sedgemoor? Miss Penelope Thorne, that's who. She's known Camden Rothermere since they were children-and she also knows she'd bring nothing but scandal to his name.

Cam can hardly believe Penelope turned down his proposal. But if she wants to run off to the Continent and set the rumor mill ablaze, he can't stop her. Then her brother's dying request sends him to bring home the one woman he thought he'd finally gotten over.

The only way they'll both get back to London without their reputations in tatters is to pretend they're married during the journey. That means kissing like they mean it and even sharing a bed-until it becomes hard to tell where the game ends and true desire begins . . .
About the Author: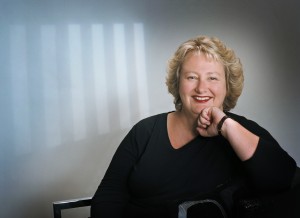 Always a voracious reader, ANNA CAMPBELL decided when she was a child that she wanted to be a writer. Once she discovered the wonderful world of romance novels, she knew exactly what she wanted to write. Anna has won numerous awards for her Avon historical romances including Romantic TimesReviewers Choice, the Booksellers Best, the Golden Quill, the Heart of Excellence, the Aspen Gold and the Australian Romance Readers Association's most popular historical romance (twice). Her books have twice been nominated for Romance Writers of America's prestigious RITA Award and twice for Australia's Romantic Book of the Year.
When she's not writing passionate, intense stories featuring gorgeous Regency heroes and the women who are their destiny, Anna loves to travel, especially in the United Kingdom, and listen to all kinds of music. She lives near the sea on the east coast of Australia, where she's losing her battle with an overgrown subtropical garden.
Buy the book at