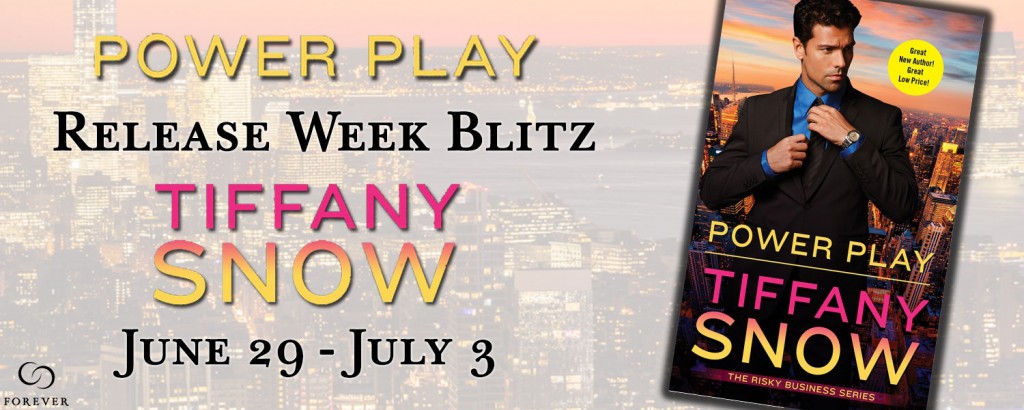 This post is part of a virtual book tour organized by the publisher. One randomly drawn reader will receive a copy of
Power Play
. Enter the Rafflecopter at the end of the post.
Favorite writing snacks
My favorite writing snacks really varies depending on how close my deadline is. A typical day with a deadline approximately two weeks away will look like this:
Morning:
7:30 am – Brew a pot of coffee, sit down to have a cup while taking care of email and social media.
8 am – Pour another cup of coffee and open my manuscript. Reread what I wrote yesterday to be inspired for today.
8:22 am – My coffee needs heating up. Quick break to do that and top off with more coffee.
9 am – I've written twenty-five words and I'm a little hungry. Some breakfast will help get the creative juices flowing.
9:37 am – An egg, piece of bacon and another cup of coffee. Okay, now I'm ready to write. Bacon fixes everything.
10:43 am – More coffee. Is there something sweet around here? *rummages through week-old muffin tin*
11:35 am – It's lunchtime! A legitimate time for a break. There must be cold-cuts in the fridge…with a side of Cool Ranch Doritos and Pepsi.
12:02 pm – NOW it's technically lunchtime, but I've already eaten. Time to get back to work.
1:15 pm – Vaguely hungry again and don't know what happens next in my manuscript. Think I'll have a snack and brainstorm.
1:35 pm – Snack pack of Cool Ranch Doritos chased with snack pack of Cheetos later and still don't know what happens next. Pour a glass of white wine and decide to change location to the porch. A fresh view will help.
1: 58 pm – It's hotter out here than I thought and the sun is bright. Back inside.
2:46 pm – Wine is gone but feels a little naughty to pour another glass. Let's have something sweet instead. I think there are some Oreos in the pantry…
3:24 pm – It's almost "happy hour," so another glass of wine is totally fine. But it should be civilized, with food, so time to dig out the water crackers and cheese. Now it's not wine-in-the-middle-of-the-day but a very French snack.
4:40 pm – They have tea time in Britain so I can do that here. I may even have some Earl Grey. How very Continental of me. And they have biscuits, too, which means cookies and hey, I still have Oreos. This works…
5:28 pm – Look at me, working late! That deserves a cocktail! After all, it was Hemingway who said "Write drunk, edit sober." Granted, I'm no Hemingway, but still. Time for that margarita. And you can't have a margarita without chips and salsa so let's dig those out, too. I can totally get some more word count in with this.
6:12 pm – Quitting time! And time to make dinner for the family. Weird that I'm not even hungry. I'll just have a glass of wine while I cook.
THIS KIND OF BUSINESS CAN ONLY BE PERSONAL

Sage Reese lives for her job. More precisely, she lives for her debonair boss, Parker Andersen. Sage handles everything for Parker, even as she fantasizes about the one thing that isn't in her job description: him. But when a high-stakes account crosses the line from shady to deadly, a tough cop starts giving Sage the attention she wishes Parker would . . .

Detective Dean Ryker couldn't be more different from Parker. While Parker wears expensive suits like a second skin and drives a BMW, Ryker's uniform is leather jackets and jeans . . . and his ride of choice is a Harley. While Parker's sexiness is a reserved, slow burn, Ryker is completely upfront about what-and who-he's after. And Sage tops his list.

Now, as Ryker digs deeper into the dark side of Parker's business, Sage finds herself caught between two men: the one she's always wanted-and the one who makes her feel wanted like never before . . .
About the Author: A native of St. Louis, Missouri, Tiffany Snow earned degrees in Education and History from the University of Missouri-Columbia, before launching a career in Information Technology. After over a decade in IT, she switched careers to what she always dreamed of doing – writing. Tiffany is the author of romantic suspense novels such as the Kathleen Turner Series, which includes No Turning Back, Turn to Me and Turning Point. Since she's drawn to character-driven books herself, that's what she loves to write, and the guy always gets his girl. She feeds her love of books with avid reading, yet she manages to spare time and considerable affection for trivia, eighties hair bands, the St. Louis Cardinals, and Elvis. She and her husband have two daughters and one dog.
Website | Twitter | Facebook | Goodreads
Buy the book at
Amazon
,
Barnes and Noble
,
iTunes
,
Kobo
, or
BAM
.