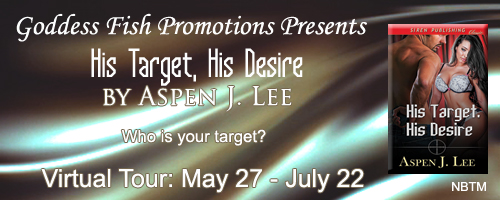 This post is part of a virtual book tour organized by
Goddess Fish Promotions
. Aspen will be awarding $30 Amazon or B/N GC to a randomly drawn winner via rafflecopter during the tour. click on the tour banner to see the other stops on the tour.
Character interview with Bryant Holt (ex Black-0ps)
Who has had the most influence on you?
My father. He was a tough son of a bitch but with a good heart. You always knew where you stood with him. His boundaries were firm but fair. When me and my brother hit our teens, we both went a bit wild, as you do when the testosterone kicks in. My mother didn't know what to do. Poor mom fretted a lot. But dad took us a side and had a little talk. He said "You have your fun because you'll never live this life again, but remember, if you respect yourself then you can't help but treat others with the same regard. You do that, it will come back to you in return. Be good to your woman because the happiest times of your life will come from sharing it with someone you love, and I ain't never pulling you from jail.
What do you consider your greatest achievement?
Falling in love with Cypress.
What is your greatest regret?
Not being there when my mom passed away. I was away on assignment and only found out two days later. She endured a long fight against breast cancer. She was courageous throughout, even when in excruciating pain. She never complained or felt sorry for herself. It killed me to see how gutted my father was when she died. A large part of him died with her.
When was the time you were the most frightened?
When I thought I would lose Cypress. When those guys came out of no where and tried to kidnap her, man if I'd been a couple of seconds later, she would've been gone. At this point I wasn't sure who was after her. If it had been military, she'd be dead already.
If you could change one thing from your past, what would it be, and why?
I never told my mom enough times how much I loved her. It's only once they're gone and you've lost your chance, do you realize how much you took them for granted. I take the time now to show my respect and love for my father. I'm making sure he knows my feelings for him. You've got to see the positives in everything you experience, even if it's shit, otherwise the bad in life will start to weigh you down. Mom's early death was a tragedy for us, but also a gift. I choose now not to take for granted those that matter to me the most.
What is your best memory?
Fishing. We lived close to the beach and in summer, every Friday evening mom would pack us a picnic dinner and we'd spend the evening fishing. Those times were the best. All of us together, sharing jokes, laughing, chilling as a family. Mom and Dad would usually end up talking about their childhoods and the sorts of things they got up to. Sometimes it's easy to forget your parents had a history. That their life didn't start the moment you were born.
Are you able to kill? Under what circumstances do you find killing to be acceptable or unacceptable?
Yes. I have. It's part of my job. But I never do it without a heavy heart, and I've never forgotten the men I've killed. It's your duty. It's your leveler. Otherwise you're no longer human. But the truth is, not everyone deserves the life they're given.
Do you believe in the existence of soul mates and/or true love?
I never did until I met Cypress. I'd been looking in the wrong places and at the wrong women. I thought I was going to be a drifting bachelor, never finding fulfillment with one woman. But when you find the right one, falling in love is unavoidable and giving of yourself is easy. You want to please her.
What do you look for in a potential lover?
A woman who disarms me. Physical beauty is great, but if there's nothing more beyond the border, than my interest won't hold for the long run. I love to be kept guessing. I need a woman who challenges me, makes me strive harder to keep up, doesn't take my shit. Strength is great in a woman, and I'm not talking physical. I mean a woman who knows her worth and won't allow herself to be diminished.
Do you trust anyone to protect you? Who, and why?
No. I think you've got to find your own strength, learn to depend on yourself. There's no guarantee that the people you love and trust will always be there. If you're not prepared to help yourself then you should never expect others to do it for you. My dad started me and my brother with martial arts when we were young. He felt it was good for discipline and confidence. He also believed a man had to know how to protect himself and his own.
What is your greatest strength as a person?
Courage and loyalty.
What is your greatest weakness?
I don't know when to let go.
Name three things you consider yourself to be very good at, and three things you consider yourself to be very bad at.
I'm good with weapons, hand-to-hand combat and pleasing a woman. I'm useless at cooking, table tennis and picking up after myself.
What is your idea of good entertainment (consider music, movies, art, etc.)?
Cuddling up with my girlfriend, cozy on a cold night, with a quick and easy feed, perhaps pizza, and a good action flick.
What is your favorite food?
Pizza, Mom's lasagna, hot curry. I'm a savory food kind of guy. A good home cooked meal wins hands down. My mom was a fantastic cook. She used to make the best samosas, ever. She spent some of her teens in India as her dad worked for some shipping company based in Mumbai, Bombay, back then. She could make the hottest vindaloo I'd ever tasted.
How do you deal with stress?
I pump weights, pound the turf, kick box, parachute or anything else that gets the heart rate flowing. I find exercise is the best way to clear stress from my system. It also helps me streamline my focus. I usually find my solutions when my muscles burn. And I mean exercise in any form, including sex. A long session in bed is guaranteed make me forget what the hell I was worried about.
The rules of survival in this line of work: trust no one, hold no assumptions, don't fall for your target. Bryant Holt breaks all three.

For 1.5 million, Cypress Howard is now his target. Ex-black ops, Bryant finds he can't resist her temptations.

He's way out of her league, sexy as hell and asking her out for dinner. It just doesn't make sense. But Cypress is frightened of letting any one in.

Why? Because Cypress now lives incognito. The real her is dead, or so everyone thinks.

A deal is struck between secret factions and Cypress is now being hunted. Bryant's claimed her, and he'll do anything to save her. But first he must unravel the maze of her past.

When her life begins to implode, Cypress's lover turns into James Bond. Who the hell is he? It's too late to question, Bryant's already chained her heart. All she can do is hold on.
Enjoy an excerpt:
"Sorry." She gave him a quick glance as her cheeks heated some more, determined to give him only a moment's eye contact, enough to endorse her apology, before turning her attention back to the broad shoulders in front, but the arresting smile and deep brown eyes held her head in place.
"Pleasure's mine."
O-k-a-y. A delicious yet confusing comment.
"Bryant Holt." A hand came toward her in the ritual of welcome.
Long fingers laced around, encapsulating her hand, locking it to his warm palm. When she glanced up, the intensity of his gaze, lessoned only a little by his generous smile, swallowed her.
"Cypress Howard." The words came out quick. Great, now he would think her childish, gushing or simple. "I wasn't looking."
His brow furrowed, then one eyebrow shot up quizzically—sexy, in a cute, alluring way.
"Your screen, I mean. I wasn't peeking at your typing, or rather what you were searching through."
He gave a small nod to show he understood her bumbling explanation. "Doesn't matter. My cells littered with work stuff, boring as hell and riddled with jargon even I can't understand."
"You work in this building? It's just that I've been riding this lift for a year now and haven't seen you before." Left off the sentence end was an elaboration that went something like "yours is a face I wouldn't forget," but it was way too much of a pickup line. And what about everything else she'd said? Did it all sound cheesy?
About the Author:After joining her local writers' centre and attending a workshop on romance writing, Aspen J lee decided she was set on the wrong career path. Swapping sides from factualising to fictionalizing life, she quit her job and started a Masters in Writing.
Soon after she discovered passion rather than academics was the key ingredient, so picked up the pen and began to fashion her own stories. Another workshop introduced her into the world of spicy writing. The end result was Slipping Through His Fingers, published by Siren-Bookstrand (2014). Two novels followed His Target His Desire (Siren-Bookstrand, 2015) and Bound (Eternal Press, 2015).
Aspen is currently crafting her fourth erotic romance and dipping her quill into a dystopian, both of which she hopes to have published later this year.
When Aspen can extract herself from her characters, she can be found in her kitchen, crafting magic of a different nature, with dogs and cats in tow. She lives on 6.5 acres, which she shares with the wildlife, a husband and three children.
Blog | YouTube | Google+ | Facebook | Facebook Fan Page | Twitter | Website | Amazon Author Page
Buy the book at Bookstrand.