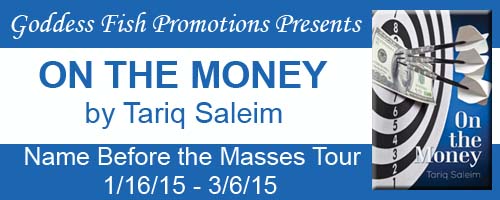 This post is part of a virtual book tour organized by
Goddess Fish Promotions
. The author will award a $25 Amazon or B&N gift card to a randomly drawn winner via Rafflecopter. Click on the banner to see the other stops on the tour.
10 things most people don't know about you
1. I love ice-cream
Nothing sets my mood like a big bowl of ice-cream. Strawberry and Cheesecake are my favorite flavors. I can survive on ice-cream for days, but sadly it is unhealthy to eat a lot so I restrain myself. It is not clear as to who invented ice-cream (Romans, Persians and Arabs all claim they did), but whoever invented this delicacy was a blessed soul and I am indebted to him / her.
2. I have no talent for Art
I was in Paris last year with family and we visited several museums. I was mesmerized by the quality of art on display. I have no talent for painting, sculpturing or singing and this saddens me much. I told my daughter I was happy to be born in an era when I could study business, finance and law and make a career in banking. If I was born few centuries ago and had to make a living by painting or sculpturing or singing I would have died penniless. Thanks God for small mercies.
3. I want it all
I want to be rich, healthy, happy and famous. I want to look good and young as long as I can. I wish to have a loving family with whom I can share my ups and down. I desire to contribute positively to the society and leave behind a positive legacy. When I die, I want to go to heaven. In short – I want it all. Someone told me these are contradictory goals. I refuse to believe so and spend every day of my life pursuing my dream.
4. My wife believes I have mild OCD
Although I have never been clinically diagnosed with the condition, but my wife believes I have mild OCD. I tend to agree with her. I hate disorderly and messy environments. My desk at office is always neat and orderly. Papers are properly filed and stationery is never scattered around. At home, my bedroom, cupboards and gym are always tidy. I hang my clothes in my wardrobe by type and in color groups. My kids are my exact opposite and I have to try very hard not to nag all the time. Recently I have noticed my wife is becoming more like me (eighteen years of marriage seems to be doing the trick).
5. At age 31, I thought I almost died
When I was 31 years old, I was based in Hong Kong. One day, I had an anxiety attack while I was still in the office working very late hours. I had not slept properly for several days and was totally exhausted. I started sweating profusely and felt pain in left arm. I thought I was having a heart attack and panicked. Hours later, at the hospital, it was diagnosed that I had an anxiety attack only and needed to rest. While doctors were running tests on me, my only regrets were that I did not spend enough time with my wife, kids and parents. I promised to myself that if I survived that day, I would never go to a hospital again for any fault of mine. That incident helped me in setting my priorities right forever – health and family always comes first.
6. I wrote my first poem at the age of 14
I was fourteen years old when I wrote my first poem. Over years to come, I wrote several poems in a notebook and then I lost it. Recently, I found that notebook at my parents' place. I was surprised to see that some of the poems were really good quality. One day I plan to publish these poems as well – my cherished childhood memories.
7. I survived a bomb blast
In 2008, I was staying at a five star hotel that was bombed. The day and time this hotel was bombed, I was supposed to be having dinner with a client. One day before our meeting, the client cancelled our dinner and I checked out of the hotel a day ahead of my schedule. I flew back home and when I landed I heard about the blast. The entire hotel was destroyed and heavy casualties were reported. That incident made me realize that life can end rather quickly and unexpectedly. Shortly after the incident, I started writing my first book "A Chronicle of Amends" and dedicated it to my children. I wanted to leave behind some words of guidance for my children in case I died unexpectedly someday. 
8. I love wrist watches
I have a sizeable collection of wrist watches that I have collected in the past 15 years. When I bought my first Rolex, it was worth more than the car I was driving (I know it is hard to believe, but I had a very shitty car). I now have over 30 high quality watches and I am very proud of my collection. I try to buy at least one new wrist watch every year.
9. I was a young father
I got married at the age of twenty four and became a father at twenty five. People ask me if it was tough being a dad that early and I tell them it was. I had just started with my career and income was low and my wife was not working. After my first child, I did two jobs for several years to make ends meet, but it was worth all the effort. I had my second kid when I was thirty years old. If someone gives me the ability to go back in time and the option to reconsider my choices, I will still have kids early.
10. I write to show my gratitude
Life has treated me well and I write to express my gratitude for all that life has given to me. My books, "A Chronicle of Amends" and "On the Money" are based on my life experiences. These talk about incidents and people who have shaped my life and helped me navigate through tough times. I believe my experiences can help people and that is my motivation to continue writing. If my work can change only one person's life in a positive way, I will consider it worth all the effort.
Everything in life comes at the cost of something else. The more you have of something, the more you have to let go of something else, and this applies to money, too. There is no exception to this, and therefore it is important to know the true cost of your achievements. The more money you accumulate, the less you have of something else (often health, time, relationships, dignity, respect, etc.). Most of us are not able to fathom these costs up front, and when we finally understand, it is usually too late.

A banker by profession, Tariq Saleim has been the confidant of many successful individuals across his international career. He is a believer that true happiness comes from knowing what you want in life -and what you are willing to sacrifice to get it. 'On the money' is his first romantic novel that discusses time-tested moneymaking concepts and reflects on the hidden costs of our decisions in the process.
Enjoy an excerpt:
She was intrigued by her visitor, who had not bothered to call and then decided to wait. Slowly she walked toward the hall, and then she saw him. He was seated on the sofa facing the hallway, looking haggard and tired. His suitcase was next to him. He looked up as soon as he heard her footsteps and stood up to welcome her.
She quickly walked to him, and before he could say a word, she slapped him hard on his face.
"This is for not replying to my calls and messages," she said furiously.
He did not say a word. Instead, he took her face in his hands and kissed her lips. Half-heartedly she tried to free herself from his grip and then pretended she could not. As she kissed him back, he released her face and embraced her in his arms.
"I thought I would deliver my message in person," he replied lovingly, his lips still on hers.
"What took you so long?" she questioned, breathing heavily, struggling to talk and kiss at the same time.
"I had to be set free before I could," he replied quickly, also breathing heavily now.
"And you are free now?" she questioned, holding her lips to his.
He pushed her back gently so that he could say his next words in no uncertain terms.
"I have paid for my commitments through my blood and sweat. There are no more commitments today. There is only love, there is only you, and nothing else matters."
She looked into his eyes affectionately and said, "You are not going to disappear tomorrow?"
"Never again, my love; never again," he replied with a smile.
About the Author: Tariq Saleim was born in Lahore, Pakistan, in 1972 and currently resides in Singapore. He is a banker by profession and has been associated with the industry for over two decades. He is a law graduate and also holds an MBA in finance. His first book, A Chronicle of Amends, was published in 2013 and received encouraging reviews from critics and fans. His second book, On the Money, discusses time-tested moneymaking concepts and reflects on the hidden costs of our decisions in the process.