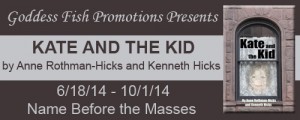 This post is part of a virtual book tour organized by Goddess Fish Promotions. Anne and Kenneth will be awarding a $40 Amazon/BN GC to a randomly drawn winner via Rafflecopter during the tour. click on the tour banner to see the rest of the stops on the tour.
Jenny and Her Doll
As the novel opens, Linda has recently asked Sally, who lives across the hall from Kate, to take care of her daughter, Jenny. The "few days" that Linda originally requested have turned into weeks, and there is no definite end in sight. Sally is not the worst person in the world, but she has a temper and lacks the patience needed to take care of a kid like Jenny, whose mother has an alcohol and drug problem that resulted in Jenny living in various homes and shelters in New York City, many of them shared by addicts and assorted undesirables.
At this point, Jenny does not trust adults at all anymore and communicates by either talking to her doll or by having the doll talk for her. Jenny also puts up a fight every time she has to take a bath, and has a habit of trying to run away. One afternoon, Kate is sunbathing on the roof of her apartment building while Sally hangs some laundry up to dry, and Jenny is playing by herself on the building stairs, slamming the door to the roof again and again but not coming outside. Kate falls asleep and when she awakens she finds that Sally has left Jenny with Kate for the rest of the day and suggests in her note that there is peanut butter in the refrigerator for Jenny's dinner.
Kate's first thought is that she will simply drop Jenny off with Mrs. Morley, an elderly lady living in an apartment on the first floor who, in the past, has taken care of Jenny also. But while Kate is calling Mrs. Morley on the telephone, Jenny seems to be strangling her doll, Miranda, and Kate realizes that if she dumps Jenny off now the girl will believe she did something wrong that made Kate not want to be with her. Unwilling to be the cause of such negative thoughts in the child, Kate decides that one night of babysitting would not be such a bad thing.
They end up having a nice time together on a picnic in Central Park, which is marred by a drug dealer who inexplicably starts following Kate and Jenny until they are able to escape in a taxi. Jenny stays with Kate overnight because Sally does not return until the next morning. When the drug dealer appears at Kate's apartment building and announces that he is Jenny's father and is taking her away, Kate is horrified. The next day, on a whim, she stops by the decrepit apartment where the father lives. He is dying of an overdose, and she finds Jenny and Miranda huddled on the roof. Kate calls 911 anonymously and takes Jenny home. And so begins the process by which Kate forms a bond with Jenny, and both she and Jenny teach each other about commitment and what love means.
It was important for us to make clear that we never think that Linda does not love her daughter – she does. But she is in a state of mind in which her own selfish needs take precedence. Kate also is self-centered in her way, and taking care of Jenny forces her to see the choices that a person makes every day whether to be selfish or not. Essentially, Kate and the Kid is a novel of the transforming effect of love on the life of Jenny, on Kate, on Kate's boyfriend, Roger, and even on Linda who has a revelation of her own as the book comes to a conclusion.
KATE AND THE KID is about a young woman (Kate) who has just lost her job and had a major fight with her boyfriend (also arising from the trauma of being fired). At this very low point in her life, Kate is tricked into taking care of a sweet but emotionally damaged six-year-old girl (Jenny) who only communicates with adults through a doll she calls "Miranda." As a result of an eventful night of babysitting, Kate begins to bond with Jenny, which causes a whole new set of complications with the people in Kate's and Jenny's lives. This book tells the story of how Kate and Jenny help each other to heal, grow, and navigate the difficult and sometimes dangerous world of New York City.
Enjoy an excerpt:
She began to press all the buzzers on the panel in the building's foyer, one after the other, hoping that some kind soul among her neighbors would let her in. The headache that had started in the cab settled in for the night, pounding just above her right eye. At that exquisite moment, Kate saw the kid — that ghostly, smudge-faced kid — sitting on the staircase inside. A one armed Barbie doll was on the step beside her.
"Hi, Sweetie!" Kate said through the wired glass, exaggerating the enunciation of the words to make her meaning clear. "Would you come and let me in, honey? You remember me, don't you? I live on the third floor?!"
The girl did not budge, apparently still trying for the grand prize in a zombie look-alike contest. At first, Kate felt a twinge of concern for the girl. Why on earth was she out in the hallway so late in the evening? Kate leaned her forehead against the cool glass and closed her eyes. When she opened them again, Jenny took the doll into her lap, whispered something into her plastic ear, walloped her twice across the bottom, and started up the stairs.
"Hey! Hey, where are you going?!" Kate shouted. "Hey you better come back here you little… Hey! Hey, did you hear me?!"
And with the little darling thus doubly emblazoned on Kate's mind, if not yet on her heart, their second encounter ended.
About the Author: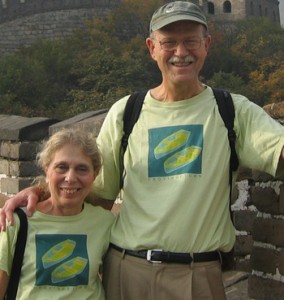 Anne Rothman-Hicks was born in New York City and, except for a brief exile to the suburbs imposed by her parents, she has lived there all of her life, the latter part of which she has shared with her co-author, Kenneth Hicks, and their three children.
Website ~ Facebook
Buy the book at
Amazon
.