This post is part of a virtual book tour organized by
Goddess Fish Promotions
. Elizabeth Ellen Carter will be awarding a $20 Amazon/BN GC to a randomly drawn winner via rafflecopter during the tour. Click on the tour banner to see the other stops on the tour.
24/7 – Twenty-four hours a day, seven days a week.
Did you know that if the French Revolutionaries had been successful in exporting their philosophy around the world, our short-hand for 'all day, every day' would have been 10/10 – ten hours a day, ten days a week?
Of course, each hour would have to do the work of nearly two and a half and the traditional Sunday 'day of rest' on the seventh day would have been a day of rest every tenth day – Decadi.
So why on earth did the French want to mess with the concept of time?
Well, it had everything to do with the underlying socio-political philosophy of the Revolutionaries.
The concept of a seven day week had long been adopted as a Christian one, which along with the Jewish faith, took the notion from the book of Genesis – God created the world in six days and rested on the seventh and required man to do likewise – the Sabbath — which Jews celebrate on Saturday and Christians traditionally celebrate on Sunday.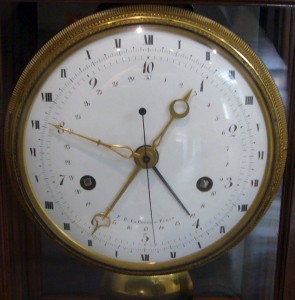 The notion of a decimal clock and a decimal calendar was seen as a more rational and scientific and an utter rejection of everything that went before it. It was first proposed by Pierre-Sylvain Marechal in 1788 – a year before the raid on Bastille Prison on July 14 that heralded the start of the French Revolution.
Five years later, in October 1793, the revolutionary calendar was adopted by the Republic of France. Clocks in the public squares now told the time in two different ways. New calendars were printed.
Adding to the complexity, every month had a new name (they mustn't have been too fond of the Romans either) and every day of the year had its own name.
It's something my hero, the English spy Daniel Ridgeway, has to contend with when he is captured Colonel Alexis Roux, an agent for the Committee of Public Safety in my historical romance Moonstone Conspiracy:
"What day is it today?" Daniel asked hoarsely.

The orderly who'd brought in his meal for the day—a weak, almost flavorless broth— answered, "Primevere."

"Pardon?"

The young man looked at him. "Primevere, the first day of Germinal."

'Germinating Primrose'—what? Daniel shook his head and regretted the move. Blood pounded in his temples and his neck hurt. He tried again. "When's the new moon?"

"Ah… ten days time, citizen. That would be…" the man concentrated hard, obviously reciting something under his breath, trying to remember how to get to the name of the day. "Couvoir."

"Right, I'll remember," Daniel said with a sigh. "Ten days after primrose is hatchery."

The orderly nodded.

Of all the idiotic things the republicans had done, establishing a ten day week and giving every day of the year its own name had to be top of the list, Daniel concluded.
Well if the Revolutionaries didn't like the traditional clock or the calendar, then what did they do about the years – since we mark years in the A.D. – Anno Domini – Latin for In The Year of Our Lord?
These days people are likely to use the more politically correct term of C.E. – Common Era – instead of A.D., but the French erased history by beginning their calendar with Year 1 – which we know as 22 September 1792, when the National Assembly officially declared France a republic.
Unsurprisingly such a wholesale change wasn't easy to implement and the entire ill-fated experiment ended in 1806, and a further short-lived attempt – just eighteen days — to bring it back happened as late as 1871 was also doomed to fail.
Thank goodness for the good ole Gregorian Calendar – it's served us well for nearly 500 years and it's still going strong!
Revolution in France, rebels in England, and one woman caught in the crossfire…

For her unwitting participation in a plot to embezzle the Exchequer, Lady Abigail Houghall has spent the last two years exiled to the city of Bath. A card sharp, sometime mistress, and target of scandalous gossip by the London Beau Monde, Lady Abigail plots to escape her gilded cage as well as the prudish society that condemns her. But the times are not easy. France is in chaos. The king has been executed, and whispers of a similar revolution are stirring in England. And because of her participation in the robbery plot, the Spymaster of England is blackmailing her into passing him information about the members of London's upper crust.

When the dashing English spy Daniel Ridgeway takes a seat at her card table and threatens to expose her for cheating, she has no choice but to do as he demands: seduce the leader of the revolutionaries and learn what she can about their plot. As she's drawn deeper into Daniel's dangerous world, from the seedy backstreets of London to the claustrophobic catacombs of a war-torn Paris, she realizes an even more dangerous fact. She's falling in love with her seductive partner. And the stakes of this game might just be too high, even for her.
Enjoy an excerpt:
Daniel picked his moment carefully. He watched Sir Percy's wife leave with another group soon after the announcement was made. And although he made no especial effort to hide, he nonetheless remained in the shadows. He pulled out a cigar and lit it on a nearby taper.
As soon as he heard the footman call for Sir Percy's carriage, he stepped forward into the carriage and waited for Blakeney to join him.
"Send me to France, Percy," he said as soon as the carriage jolted into motion.
"I'm not going to do that," Blakeney replied.
"You can't just leave Jonathan there!"
"He signed on knowing the same risks as you."
"He has a wife and children!"
"And you seem inordinately fond of them," Sir Percy snapped back. "You saw the list you gave me tonight. A dozen good men and women dead because of the Jacobins. I'm not prepared to risk more. Not until we know what we're up against."
"It could be too late!"
"You took an oath when you joined the League, Ridgeway. One to command, all to obey. Bear that in mind."
Daniel leaned forward and rested his arms on his knees and exhaled long and sharp.
He felt Percy slap him on the back.
"Just wait a week until we know the lay of the land. I haven't studied the documents you gave me and Parliament hasn't even prepared a response to the National Committee's declaration of war."
"A week is a long time, Percy," Daniel warned.
"So is eternity, dear chap. Don't lose your head. As you well know, those Frenchies have a devilish way of parting you from it."
About the Author:
Elizabeth Ellen Carter's debut novel, Moonstone Obsession, was published in 2013 by Etopia Press. Earlier that year, the Regency adventure romance had been shortlisted in the Romance Writers of Australia Emerald Awards for Best Unpublished Manuscript. Set in England and France during the French Revolution, it was heralded as 'edge-of-seat adventure and intrigue' and 'a rollercoaster of love, blackmail, ill-gotten gains, treason and trickery' with Carter described as 'a writer worth keeping an eye on' with 'a hint of classic suspense novelist Daphne du Maurier'.
Her second novel, Warrior's Surrender, was published by Etopia the following year. Set in Northumbria in 1077, it sets the relationship between a displaced Saxon noblewoman and a Norman baron against the turbulent backdrop of England in the years following the Norman invasion of 1066. Reviewers found the novel 'a fast moving and passionate read' with 'strong characters, an intriguing plot, and plenty of action… a sexy romance to be savoured'. Readers agreed, voting Warrior's Surrender Favourite Historical Fiction in the 2015 Readers & Writers Down Under Readers Choice Awards.
Also in 2014, the short story Moonstone Promise, spinning off from Moonstone Obsession as part of Etopia's Valentines Heat anthology, followed the fortunes of one of the supporting characters back home to 18th century Pittsburgh in a tale of 'second chance romance'.
Warrior's Surrender (now in print as well as eBook) was named Favourite Historical Fiction at the 2015 Readers & Writers Down Under Readers Choice Awards in March this year.
Carter moved up to 1802 for the light-hearted romantic short story Three Ships, part of the Christmas 2014 anthology A Season To Remember, and ventures briefly into contemporary romance for the first time with her Romance Writers of Australia annual Little Gems competition placegetter, The Tin Bear, publishing in August 2015.
And another Moonstone Obsession character, the sinful Lady Abigail Houghall, features in the full length novel Moonstone Conspiracy, coming from Etopia Press in 2015.
Carter is currently working on her fourth novel, set in ancient Rome and tentatively titled Dark Heart, which will bring together the elements for which she has become known in just a few years – in-depth historical detail woven through gripping adventure and captivating romance.
The author lives in Australia with her husband and two cats. A former newspaper journalist, she ran an award-winning PR agency for 12 years.
Website | Facebook | Twitter | Pinterest

Buy the book at Etopia Press Bookstore, Amazon, Barnes and Noble, iBookstore, Kobo, Google Play, All Romance eBooks, or Scribd.