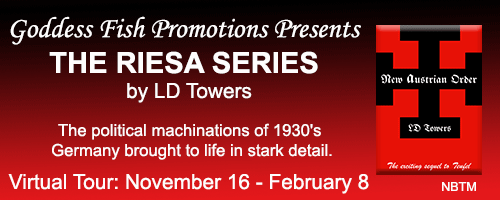 This post is part of a virtual book tour organized by
Goddess Fish Promotions
. LD Towers will be awarding a $40 Amazon or Barnes and Noble GC to a randomly drawn winner via rafflecopter during the tour. Click to win the other stops on the tour.
10 Things Most People Don't Know About LD Towers
I thought that I would do 10 things most people don't know about me, since this is my first tour, there is a lot that most people don't know! Is that the easy way out? It could be!
1. I don't eat anything with scales or that comes from the ocean. It started out from a restriction diet in university to control migraines, but evolved from there. I'm a SCUBA diver, and I've been diving in places that are mostly fished out. Now it's my bit to help the ecology.
2. From Oct 2014 to Oct 2015, I lived in five different countries- Canada, Germany, Italy, Mexico and Belize. One of those was only for 6 weeks, but I didn't know it at the time. I'm hoping 2016 will involve less moving.
3. I'm also a photographer and I have a Facebook page called 'Blackbird's Photography'. I also tweet my pics from time to time. I don't really do people though. Mostly it's all buildings and landscapes. There is the odd snap in there that I'm rather proud of.
4. I have a condition called Plantar fascial fibromatosis, or Ledderhose disease. It's like fibrous tumour-like growths in the feet. My friends think it's somewhat ironic that I lived in Germany, I write about Germans and I have something called Ledderhose disease. (only the iconic leather pants are lederhose.)
5. I've had Siamese cats in my life since I was six years old. My first one came from Santa and lived for 19 years. My parents are looking after another meeze of mine in his twilight years as my moving was getting too hard on him. His name is Shen and he just turned 21. I'm rather proud of that. Shen lived in Canada, France and Germany. Now I have the famous Niblet as my interspecies life mate! 🙂
6. Blue is my favourite colour. If I could, I would paint the world in blue.
7. Someone once asked me which of my 'Teufel' characters was me. I've always said that if I was a man, I would want to be like Hagen Kohl and if I had pots of money, I would probably be like Galiena. There is a lot of me in Galiena. While I was never assaulted by my grandfather, I had an occasionally acrimonious relationship with him. I think it was easy to make Meinrad von Steinberg a bad guy. Amusingly enough, now he's one of my favourite characters, even though he's thoroughly evil.
8. I'm a wine racist. Red wine all the way. I can't stand white wine. I have a caveat. I like bubbly. As they said in the 30's, 'When we have bubbles, we have no troubles.' I didn't like rosé until I had a date with a Frenchman in a restaurant by the Louvre in Paris. We sat on the terrace all afternoon on a beautiful summer's day and drank rosé by the glass in that amazing setting. To this day, I'm a fan. The Frenchman was fine, too, until he told me he was married at the end of it. Why do they do that? *shakes fists at the heavens*
9. I like Trekking. I did 275 kms/170 miles of the Camino de Santiago in 2014. I'm not a small woman, in fact, I'm a BIG woman. Don't let size stop you from doing something like that. If I can do it, anyone can and it's a life changing experience. I want to do the whole Spanish part of the Camino soon. After that, I want to walk the Via Francigena from Canterbury to Rome and then write about it. I think every young person should have to do the Camino after high school before they apply for university or further life. A plucky and thrifty person can do it for 10-15 Euros (about the same in USD at the moment) a day. I averaged 20. It's not an expensive trip. I learned so much about myself doing it. If anyone needs Camino advice, drop me a line.
10. I'm an Apple. I went mac in 2008 and have never looked back. I had two toshiba laptops that didn't survive a year and I was looking for a machine that would survive me. A friend said… go Mac… I had been a PC since 1988, so it was a BIG change. Now you couldn't pay me to go back! Now if only they cost less…
So there is a little bit about me! 🙂
1938. Germany is moving faster than Standartenführer Hagen Kohl thought possible. Sent down to Vienna to investigate a potential threat to Hitler's plans for Austria, Hagen is drawn in to an aristocratic world he's never encountered before. Without Hauptsturmführer Eugen Friesler at his side, Hagen is in more danger than he could have imagined as he hunts for a shadowy organization called the New Austrian Order. Back in Germany, Galiena von Steinberg returns to Riesa and the von Steinberg Gesellschaft, but taking over the reins of her Grandfather's empire comes with many challenges. Can she protect her family holdings while keeping true to the new sense of self she has worked so hard to find?
Against the politically charged background of Nazi Germany's police state, Standartenführer Doctor Hagen Kohl is trying to carve out a profession for himself in the SS. A middle class intellectual with a doctorate in Literature, Hagen is a an investigator who hunts criminals within the party apparatus itself. Hagen justifies everything by his personal code and patriotism, unable to see the flaws of the regime he serves. When he is ordered to investigate members of the army, he discovers patriotism is entirely a matter of perspective. His eyes are further opened by exposure to Galiena von Steinberg; an aristocrat whose own experiences bring him into the entanglements and intrigues at the highest levels of Third Reich society.
Enjoy an excerpt from New Austrian Order:
The parade ground was large, and all about there were people. The SS men, in their black uniforms, and the camp guards in their grey seemed drab on the sunny square. There were so many, trailing behind Himmler like a flock of crows. Galiena hated that analogy, but it seemed so appropriate. Here and there she saw people she assumed to be prisoners, in their black and white horizontal striped suits, and grotesquely shaved heads. They almost reminded her of larvae, their scalps so pale in the light. One man turned and stared at her, the bright splash of colour that she was, as if he couldn't believe his eyes. Then his face dropped back to his toiling in the black earth of the flowerbeds near the Administration building. The place was so dour. So grey. In her scarlet, echoed only in the swastika flag on the flag pole, she must look like a drop of blood on a piece of slate.
Himmler moved to intercept her, his eyes shining with something she couldn't define. In this place he was a thousand feet tall, and his knowledge of his power emanated from him in waves. The men trailing after him followed his every movement and gesture. When he smiled, so did they, when he laughed, they echoed, and the moment he stopped, there was silence behind him. Galiena had never seen this Himmler. This was the Reichsführer-SS, and his power was consuming. His eyes met hers, as he clicked his heels and bowed his head before her. When the peak of his hat came up again, he was smiling; warmly and broadly. More the man of her acquaintance, but the look in his eyes seemed to mock her. This Himmler was a predator and he was in his lair with all his sycophants around to admire his magnificence.
About the Author: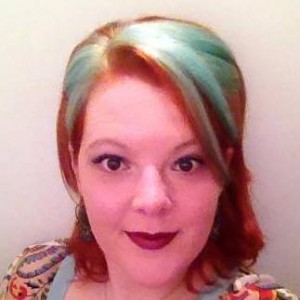 LD Towers travels the world like a rootless vagabond! A military historian, she searches out places of conflict to find a deeper insight to the things she writes about. Presently enjoying the warm weather and azure seas of Central America, she has lived all over Western Europe, including 5.5 years in the incomparable Berlin.
Primarily working in Historical and Military Fiction, LD sometimes sneaks in the odd Dystopian or Modern Thriller piece. Also look for a series of novellas about the despicable yet intriguing Meinrad von Steinberg from the Riesa Series, coming in fall 2015.
Website | Twitter | Facebook | Amazon Author Page
Buy New Austrian Order at Amazon.
Buy Teufel at Amazon.