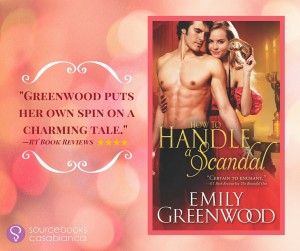 This post is part of a virtual book tour organized by the publisher to celebrate the release of Emily Greenwood's latest book
How to Handle a Scandal
on March 1. Enter the Rafflecopter at the end of the post to win a copy of
The Beautiful One
.
10 Things Most People Don't Know about Emily Greenwood
1. If I weren't a writer, I'd like to be one of those people who keep goats that can be rented out for weed control. This kind of job seems like a win-win—I like goats, and goats like weeds.
2. In grade school, I broke both my arms in gym class by running into a wall. I had a good reason! We were doing a fitness test, and I was terrified that I'd get the worst score in the class on the timed run (I was pretty unathletic). So I decided to race full-speed ahead, thinking the padded wall under the basketball net would absorb the force. I put out both my arms to stop myself…and it turned out that those pads don't have much give.
3. Green is my favorite color. I've always loved it because it's the color of living things, and it makes me feel serene, but also lively.
4. I once went to a Ramones concert with a friend, thinking it was a Romantics concert. The Ramones= punk rock, slam dancing. Romantics=pop music. Think how surprised I was when the "dancing" started. I lost a shoe and came home with bruises, but really, it was mostly fun.
5. I'm super-allergic to cats but would love to have one (and this seems slightly more reasonable than the goat idea). My allergist has suggested acquiring a kitten and giving it weekly baths to wash off the allergens, but weekly cat baths sound…challenging.
6. I've watched the A & E Pride and Prejudice series (the one with Colin Firth and Jennifer Ehle) a shameful number of times. Once, when I was eight months pregnant with my first child, I had insomnia and watched all five hours in the middle of the night. It was heaven.
7. I might not be the person you want to travel with, or at least that might be my husband's opinion, as he's been part of the fun when 1) I left my passport holder—containing my ID, money, and credit cards—at a restaurant in Paris while we were killing time before catching the train to Munich. I didn't realize my things were missing until we were on the metro to the train station. Cue a heart-pounding race against the clock. 2) Having learned my lesson, I put my passport in a "special place" while at our hotel in Poland so I wouldn't lose it, then couldn't find it when it was time to leave for the train station. Cue another heart-pounding race against the clock. But hey, both times we made our trains! And we're still happily married.
8. The semester I studied in France during college, I ate more pastries than all French people combined. Or at least, that was my conclusion, since I ate them every chance I got but never saw any French people eating them. My favorites were anything with custard.
9. I like to paint—walls, not canvasses. I find painting pleasantly mindless, and I love how I can completely change the look of a room in only a few hours. Those color sample cards at the paint store are like catnip for me. My favorite color to paint walls is green (see #3), though blue is a close second.
10. My other fantasy job, besides the goat thing, is to work at the library circulation desk, checking books in and out. Spending the day with books and readers—what's not to love?
THEY THOUGHT THE DEBUTANTE WAS SCANDALOUS

Miss Elizabeth Tarryton was the toast of the London Season the year she was seventeen and spurned young Tommy Halifax. A careless flirt who didn't know what she wanted, she was startled into laughter by his public proposal of marriage. Furious and heartbroken, Tommy promptly left home for a life of adventure in India.

IF THEY ONLY KNEW ABOUT THE WIDOW

Seven years later, Elizabeth has much to make up for, but the methods she chooses for doing good are as shocking as her earlier wanton behavior–should the ton ever find out. Tommy returns to England a hero, with no intention of allowing himself to be hurt by a woman ever again, but he's fascinated nonetheless by Elizabeth, now widowed and more alluring than ever.
About the Author: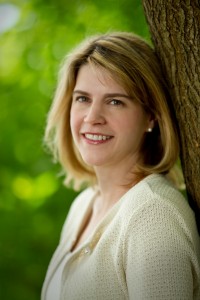 Emily Greenwood worked for a number of years as a writer, crafting newsletters and fundraising brochures, but she far prefers writing playful love stories set in Regency England, and she thinks romance novels are the chocolate of literature. A Golden Heart finalist, she lives in Maryland with her husband and two daughters.
Website | Facebook | Twitter | Goodreads