Note: Leave a comment on this post and you're entered to win a print copy of Must Love Dukes (US/Canada only)!
10 Random Facts About Elizabeth Michels
I'm excited to be here on Long and Short Reviews today to celebrate the recent release of my new series, and my debut novel, Must Love Dukes! Since I'm a new author, I thought it would be fun to tell you a little bit about myself and ask you to do the same in the comments section…I'm trying really hard not to sing "Getting to Know You" from The King and I right now and I may fail at this attempt by the end of the blog post.  Now that you've been warned of the potential for me to sing my rendition of a song from a classic musical, here are 10 random facts about me:
I once got locked inside a shopping mall and had to call the police to get out.  This may sound like it could be entertaining for a girl who loves to shop, but it gets really dark in there at night.  Spooky!
I'm the designated cook for my family.  I love to prepare large meals for holidays when everyone gathers together.  It gives me a great sense of satisfaction when people grumble about how full they are when they leave the table and are forced to nap on the sofa to sleep off all the yummy food I fed them.  Baking, however, is not my forte.  I bake uneven cakes, burn cookies, and in general, make the ugliest baked goods ever produced.  So, come to my house for a made-from-scratch dinner, but the dessert will be purchased from a bakery.  Seriously, I made these…

 They're supposed to be cookies.  The ones on the right are my husband's handywork.  My cookies on the left are just sad

I'm terrified of water slides.  My worst nightmare is being invited to a water park for the day and not being able to come up with an excuse not to go.
Before I was an author, I was an interior designer.  I've designed everything from office buildings and Hallmark stores to houses and custom furniture.  My hobby is still home renovation, but now I only work on my house and give advice to friends and family when I'm asked for assistance.
I live in North Carolina, grew up in South Carolina, and lived in Kansas City as well as St. Louis for a while.  I've been to Canada, the Bahamas, the UK, France, Spain, Holland, and Belgium.  But, I've never been to the west coast of the United States. (Although, I did fly over it once on my way to Hawaii.)
I'm really good at the game of darts and was known to hustle overly confident boys when I was in college.  But, when it comes to a game of charades, I lose every time.  You can keep waving your hands around, but that doesn't mean I have a clue what you're saying.  This does not, however, keep me from guessing wildly—much to the amusement of those around me.
I'm secretly addicted to celebrity gossip.  (Shhh, don't tell.)  So, when I have free time to catch up on television, I can usually be found watching the E! Channel and dreaming of fancy events where I could wear red-carpet-worthy dresses. *dreamy sighs*
The worst job I've ever had was selling hair to bald men.  Enough said.
I'm a perfectionist.  In an ideal world, everything would be at right angles or placed at a diagonal on purpose, all surfaces would be clean and shiny, I would be 10 pounds lighter, and all carpet would have those lovely stripes that the vacuum cleaner leaves behind.
When I'm not writing, I enjoy spending time with my little boy.  Here he is showing off my book in the local bookstore.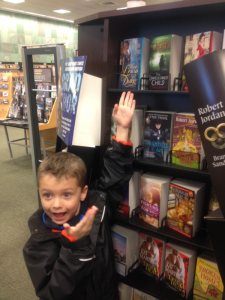 That's my list! As you may have guessed from this glimpse into my life, the characters in my books are just that—characters.  They have random quirks, strengths, weaknesses, and a sense of humor as they try to find their path in life.  This first book is the story of Lily and Devon.  She compulsively straightens everything around her even when fleeing a gentleman's home from whom she's just stolen.  He's a brooding gentleman who collects exotic flowers from his explorations and is known as The Mad Duke.  Together they turn London society upside down with their shenanigans.  I hope you enjoy Must Love Dukes!  Comment with a random fact about you and you might win a print copy of Must Love Dukes. (US/Canada only) *sings: Getting to know you, getting to know all about you…* Well, you were warned about the singing.
MUST LOVE DUKES BY ELIZABETH MICHELS – IN STORES FEBRUARY 2014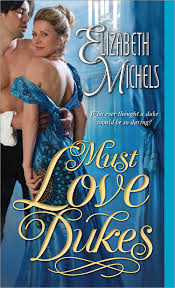 The Mad Duke leaned in closer, his lips gently brushing her ear, and whispered, "I dare you."
She Can't Resist the Dare…
Lillian Phillips could not imagine how her quiet, simple life had come to this. Blackmailed by the Mad Duke of Thornwood into accepting one wild dare after another…all because of a pocket watch. Desperate to recover her beloved father's pawned timepiece, Lily did something reckless and dangerous and delicious—something that led to a night she'd never forget.
He has a Reputation for Scandal…
When Devon Grey, Duke of Thornwood, runs into a mesmerizing, intoxicating, thieving woman who literally stole from his bedchamber—with his new pocket watch—Devon plots his revenge. If the daring wench likes to play games, he's happy to oblige. After all, what's the ruse of being the Mad Duke if you can't have some fun? But the last laugh might just be on him…
ABOUT THE AUTHOR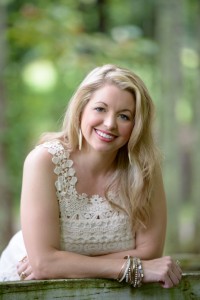 Elizabeth Michels grew up on a Christmas tree farm in rural South Carolina. After tip-toeing her way through school with her focus on ballet steps and her nose in a book, she met a boy and followed him a thousand miles away from home to Kansas City, Missouri, before settling down in North Carolina. She attended Park University where she graduated Magna Cum Laude with a BA in Interior Design. Elizabeth is a lover of happily-ever-afters; she invites you to read her stories, get lost, and enjoy. For more information, please visit http://www.elizabethmichels.com/ and http://www.badgirlzwrite.com/.
To Purchase Must Love Dukes: